Catalogs

>

startZ
Catalog excerpts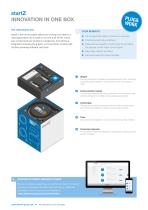 startZ INNOVATION IN ONE BOX The robot starter box YOUR BENEFITS startZ is one of the easiest options for turning your idea for a robot application into a reality in no time at all. All the necessary components are located in a single box. Everything is integrated, including the gripper, communication module with intuitive operating software, and tools. PLUG& WORK ► ll components ready to connect in one box A ► ntuitive guideZ setup software I ► anufacturer-specific Comfort app for actuating M the gripper via the robot control panel ► ounting material included M ► equired assembly tools...
Open the catalog to page 2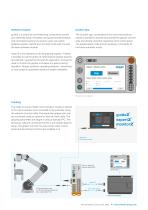 Software modules guideZ is a wizard for commissioning components quickly and extremely easily. It enables user-guided implementation and commissioning for truly anyone. Users can switch between guideZ, expertZ and monitorZ mode with one and the same software module. The Comfort app, coordinated to the robot manufacturer, makes it possible to actuate and operate the gripper conveniently and directly using the respective robot control panel. The easiest setup mode and all necessary commands for hitch-free automatic mode. expertZ is the software tool for all gripping experts. It makes it...
Open the catalog to page 3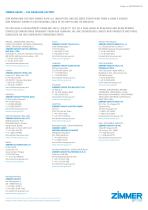 ZIMMER GROUP — THE KNOW-HOW FACTORY OUR KNOW-HOW FACTORY WORKS WITH ALL INDUSTRIES AND DELIVERS EVERYTHING FROM A SINGLE SOURCE. OUR PRODUCT RANGE IS FAR REACHING, BOTH IN ITS DEPTH AND ITS BREADTH. DO YOU HAVE A DEVELOPMENT PROBLEM? WE'LL SOLVE IT! SET US A CHALLENGE IN RESEARCH AND DEVELOPMENT. COUNTLESS INNOVATIONS ORIGINATE FROM OUR COMPANY. WE ARE ENTHUSIASTIC ABOUT NEW PRODUCTS AND PRIDE OURSELVES ON OUR CORPORATE PIONEERING SPIRIT. BRAZIL, ARGENTINA, BOLIVIA, CHILE, ECUADOR, GUYANA, PARAGUAY, PERU, URUGUAY, VENEZUELA: ZIMMER GROUP SOUTH AMERICA IMP. EXP. LTDA Rua Wolsir A. Antonini...
Open the catalog to page 4
All ZIMMER GROUP catalogs and technical brochures

Archived catalogs

Compare up to 10 products