Catalogs

>

Complete MAVE-2
Catalog excerpts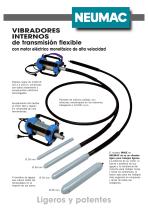 VIBRADORES INTERNOS de transmisión flexible con motor eléctrico monofásico de alta velocidad Potente motor de 2.000 W (10 A a 220 V), construido con doble aislamiento y componentes eléctricos homologados. Flexibles de máxima calidad, con refuerzos vulcanizados en los extremos, trabajando a 12.000 r.p.m. Acoplamiento del flexible al motor fácil y rápido, sin necesidad de usar herramientas. 4 tamaños de agujas que cubren todas las necesidades en la mayoría de las obras. El modelo MAVE de NEUMAC no es un vibrador ligero para trabajos ligeros. La potencia de su motor, la fuerza y amplitud de sus agujas y la resistencia del conjunto para trabajar horas y horas sin problemas, lo hacen apto para los trabajos más exigentes en empresas y obras de todas las categorías.
Open the catalog to page 1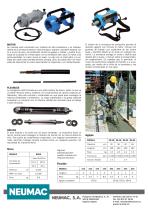 MOTOR Su carcasa esta construida con material de alta resistencia y es indepen-diente de la armadura exterior. Esta armadura, elastica y tambien aislante, sir-ve a la vez de asa y de proteccion contra los golpes y caidas, y contra la en-trada de suciedad en el interruptor y en la ventilacion del motor. El motor y los porta-escobillas no rozan nunca el suelo. La caja con el interruptor y la en-trada del cable esta hermeticamente cerrada, pero se puede abrir sin nece-sidad de desmontar el motor para facilitar la inspeccion y el mantenimiento. El diseno de la armadura de proteccion permite al...
Open the catalog to page 2
All Zamacort s.l. catalogs and technical brochures

Compare up to 10 products