Catalogs

>

DP-5500 series
Catalog excerpts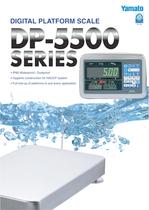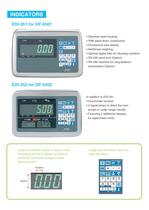 INDICATORS EDI-351 for DP-5501 EDI-352 for DP-5502 Large Fluorescent Display is easy to read. Prolonging the life of display by utilizing automatic luminosity change function (dimmer timer). Large keys and smart layout for easy operation. • Stainless steel housing • IP66 wash-down construction • Fluorescent tube display • Net/Gross weighing • Optimal digital filter for vibrating condition • RS-232 serial port (Option) • RS-485 interface for long-distance transmission (Option) In addition to EDI-351, • Over/Under function • 3 signal lamps to direct the over, accept or under range visually •...
Open the catalog to page 2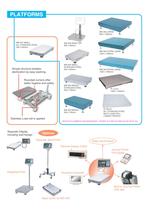 PLATFORMS Options Separate Stand Pole Base Cover for BW-307 Integrated Pole Personal Computer Built-in Journal Printer JPS-508 Journal Printer TPS-503W Remote Display EJ681 Relay Input/output Not all of our platforms are pictured here. Contact us to find out what we can do for you. BW-307 SMALL ALL STAINLESS STEEL 350 x 550mm BW-302 DESK-TOP 300 x 350mm BW-302 LARGE 850 x 1000mm BW-302 EXTRA LARGE 1200 x 1200mm BW-302 EXTRA LARGE 1200 x 1800mm PL-LLC2 1200 x 1200mm PL-MLC5 ALL STAINLESS STEEL MULTI-LOAD CELL LOWEST PROFILE BW-302 SMALL STAINLESS STEEL 350 x 550mm BW-302 MIDDLE STAINLESS...
Open the catalog to page 3
All Yamato Scale Co catalogs and technical brochures

Compare up to 10 products