Catalogs

>

Yaham new PO Series ,Perimeter led display
Catalog excerpts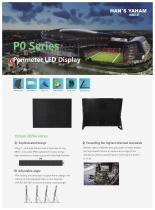 P0 Series Perimeter LED Display High refresh rate Light & thin High consistency Adjustable angle Yaham Differences Sophisticated design Exceeding the highest televised standards 37kg/ ,ultra-light cabinet with a thickness of only Refresh rate of 10000Hz and gray scale of 16bits enable 88mm, innovative IP65 waterproof module brings the high-speed camera to capture any image of the high-consistency image output with ultra-high flatness. display but without appearing any scanning line while it is on air. Adjustable angle With folding and telescopic support frame design, the cabinet can be adjusted freely to four degrees (78°,82°,86°,90°) to ensure the best viewing angle.
Open the catalog to page 1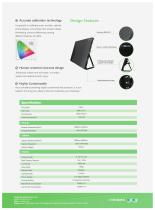 Accurate calibration technology It supports to calibrate pixel, module, cabinet, entire display .correcting color of each diode, eliminating chroma differences among different batches of LEDs. Design Features Human-oriented structure design Advanced rubber and soft mask to protect player and audience from injury. Highly Customizable As a company providing highly customized led products, it is our passion to bring your ideas to life and customize your business. Easy-to -install interlockers support frame design Angle adjustment signs Pixel Pitch Pixel Density Pexel Configuration Module...
Open the catalog to page 2
All Yaham Optoelectronics Co. catalogs and technical brochures

Compare up to 10 products