Catalogs

>

XCMG

>

XCMG 38m Straight Boom Aerial Work Platform GTBZ38S
Catalog excerpts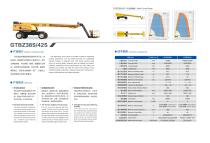 GTBZ38S/42S Work Curve Graph msm®m, mmm. mm. ntfrii %o fFimigf/cSI, ££pTit, mffifc This telescoping boom aerial work platform features outstanding working performance and four-wheel drive,with the gradeability reaching industry' s advanced level. With double working range curve, its working height, range,and load are leading the industry. Featuring outstanding working performance and high safety and reliability, this machine can meet the needs of the industry users, including building construction, bridge and equipment maintenance-shipyard, petrochemical, and leasing industries. •...
Open the catalog to page 2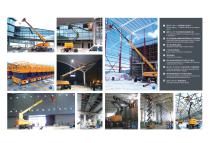 O mpf-#— We are different —Operatin site of lounge bridge of airport 0 as 14 14m crank arm platform is working in a large stadium in Guangzhou XCMG AWP assists the construction of China' s largest high-tech industry project of foreign investment Assistance in Xuzhou high-speed rail station @ rwssmssiis Baiyun Airport construction of Guangzhou © mmmis. Construction of overpass A new production base 3 of Laoganma in Qiannan, Guiyang, Guizhou Province 0 81*—ft GTBZ14J 2 XCMG new generation GTB214J is assisting the construction of #2 subway in Qingdao Scissor fork platforms are working for...
Open the catalog to page 3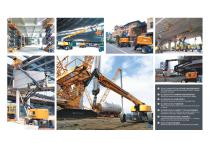 100 XCMG AWPs assist the construction of China' s largest integrated circuit base XCMG AWP powers the new airport construction in Beijing XCMG AWP assists the construction of a beautiful China O t&is XCMG aerial operation platform is praised during its first show in Guangxi The three brothers of XCMG aerial operation platform are assisting the construction of Baiyun Airport, Guangzhou Assistance in large national base construction---Zhongke Refinery and Petrochemical Construction Base Business complex construction in Gongzhufeng area of Beijing
Open the catalog to page 4
All XCMG catalogs and technical brochures

Archived catalogs

Compare up to 10 products