Catalogs

>

Sine pumps in deli salads process
Catalog excerpts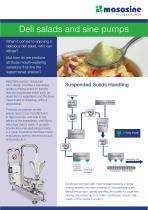 Deli salads and sine pumps When it comes to enjoying a delicious deli salad, who can refuse? But how do we produce all those mouth-watering variations that line the supermarket shelves? MasoSine pumps' sinusoidal rotor design provides a low-shear, gentle pumping action to transfer delicate suspended solids such as diced fruit or vegetables and the base mayonnaise or dressing, without degradation. Products as popular as deli salads need to be manufactured in high volumes, and due to the nature of the ingredients, shelf life is often less than a week. A smooth trouble-free manufacturing process is a must. Downtime can have costly implications both to the end product and production. Suspended Solids Handling Emulsifier Mayo blender Mixing vessel Pallecon Catering buckets Conveyor / Filling line Solids are blended with mayonnaise/dressing in large mixing vessels and then pumped to the packaging line. MasoSine pumps' gentle handling and ability to cope with varying viscosities up to 8 million centipoise, ensure high quality of the packed product.
Open the catalog to page 1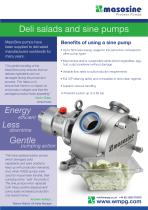 Deli salads and sine pumps pumping action MasoSine pumps have been supplied to deli salad manufacturers worldwide for many years. "The gentle handling of the MasoSine pump ensures that our delicate ingredients are not damaged during the production process. This helps us to ensure that there is no impact on end product integrity and that the packaged product looks appealing." Kevin Drew, Benefits of using a sine pump • Up to 50% less energy usage for the same flow compared to other pump types • Mayonnaise and/or suspended solids (diced vegetables, egg, fruit, nuts) transferred without damage...
Open the catalog to page 2
All Watson-Marlow Fluid Technology Group catalogs and technical brochures

Archived catalogs

Compare up to 10 products