Catalogs

>

Tubular Trough Screw Conveyors CAO Brochure
Catalog excerpts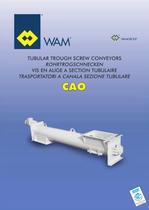 ROHRTROGSCHNECKENTRASPORTATORI A CANALA SEZIONE TUBULARE VIS EN AUGE A SECTION TUBULAIRETUBULAR TROUGH SCREW CONVEYORS CAO CAO > UNI EN ISO 9001-2000Reg. No. 026-A size="-3">
Open the catalog to page 1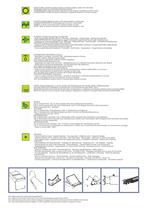 STRUCTURE: Cylindrical section casing in modular lengths, made from mild steel STAHI-BAU: Rohrtrog in Modulbauweise Normalstahl CHARPENTERIE: auges da section cyllndrique et de longueur modulaire en acier normal CARPENTERIA: Truogoli di sezione cilindrica e lunghezza modulare in acciaio normale. FLIGHTS: Helicoid flighting made of mild steel welded on centre pipe SCHNECKENWENDELN: Endiosfigel auf Innenrohr verschweit SPIRES: en acier normal avec spire continue soud쟩e sur tube SPIRE: Spire in acciaio normale con spirale continua saldata su tubo. FLANGES: Flanged end bearings complete with:-...
Open the catalog to page 3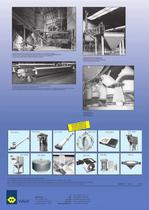 SCREW CONVEYOR FOR TRANSPORT OF RAW MATERIALS FOR CERAMIC GLAZINGS FRDERSCHNECKE F֜R ROHPRODUKTE ZUR HERSTELLUNG VON KERAMIK EINBRENNEMAILLE VIS TUBULAIRE TRANSPORT MATIERES PREMIERES POUR LAQUES CERAMIQUES COCLEA TRASPORTO MATERIE PRIME PER SMALTI CERAMICI SCREW CONVEYOR FOR CHEMICALS DOSIERSCHNECKE IN CHEMIEFABRIK VIS TUBULAIRE POUR PRODUITS CHIMIQUES COCLEA PER PRODOTTI CHIMICI JACKETED COOLING SCREWS CONVEYORS FOR HIGH TEMPERATURE COAL SCHNECKEN MIT KHLMANTEL FܜR HEISSE KOHLE VIS TUBULAIRES AVEC CHEMISE DE REFRO DISSEMENT POUR TRANSPORT DE CHARBON A TEMPERATURE TRES ELEVEE COCLEA CON...
Open the catalog to page 4
All WAMGROUP S.p.A catalogs and technical brochures

Compare up to 10 products