Catalogs

>

Pneumatic Hemmers &Blasters PS/PJ/PG -TYPE Brochure
Catalog excerpts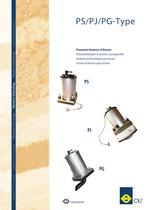 Pneumatic Hammers & Blasters Pneumatikklopfer & Luftstoss austraghilfen Systèmes de dévoûtage à percussion Sistemi di discesa a percussione PS/PJ/PG-Type Vibration Technology Vibration Technology Vibration Technology Vibration Technology Vibration Technology Vibration Technology PS PG PJ
Open the catalog to page 1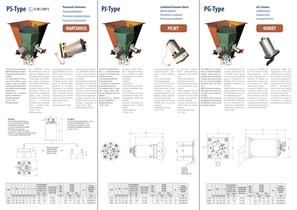 The Electro Pneumatic Hammer MARTSHOCK produces a violent impact on the walls to which it is installed. The energy released in the instant of the collision is great enough to solve all problems arising in the extraction of products stocked in bins of any shape and dimension. Guaranteed life at maximum pressure: 150,000 blows. Working temperature: -20°C to + 80°C. ATEX type available. Der MARTSHOCK Electro Pneumatikklopfer bringt filießträge Schüttgüter durch intervallgesteuerte, wuchtige Schläge gegen den Behälterkonus wieder in Bewegung. Die im Moment der Schlageinwirkungfreigesetzte...
Open the catalog to page 2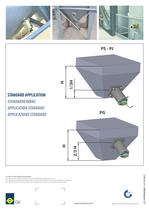 CODE: CATPSPGPJML1 | DATE: 01/2011 Rights reserved to modify technical specifications. www.olivibra.com N.B.: Rights reserved to modify technical specifications. N.B.: Angaben ohne Gewähr. Änderungen können ohne Vorankündigung vorgenommen werden. N.B.: Toutes données portées dans le présent catalogue n'engagent pas le fabricant. Elles peuvent être modifiées à tout moment. N.B.: Tutti i dati riportati nel presente catalogo non sono impegnativi e possono subire variazioni in qualsiasi momento. STANDARD APPLICATION STANDARDEINBAU APPLICATION STANDARD APPLICAZIONE STANDARD H 1/3H PS - PJ H PG...
Open the catalog to page 3
All WAMGROUP S.p.A catalogs and technical brochures

Compare up to 10 products