Catalogs

>

Continuos Level Mesurement ILS Brochure
Catalog excerpts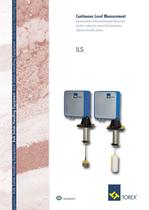 Continuous Level Measurement Kontinuierlkkes Elektromechanisches Messsyslem Sondeur splme de mesure lectrom詩canique indicalori di liveib conlinui ILS wwgroup TOREX
Open the catalog to page 1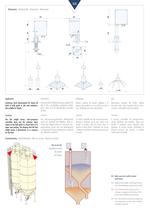 ILS 249 205 4 X ø18 180 12x0.2 47 ø83 ø83 ø83 ca. 250 220 220 200 120 298 14 180 350 298 ø180 14 Application Continuous level measurement for nearly all kinds of bulk goods in silos and containers. Also suitable for Iiquids. Function The feel weight moves, micro-processor controlled, down into the container. Upon impact on the bulk good it is drawn back to its upper stop position. The distance that the feeI weight moves, is determined. It is a measure for the level. Dimensions - Einbaumaße - Dimensions - Dimensioni Anwendung Kontinuierliche Füllstandmessung, geeignet für alle in Silos und...
Open the catalog to page 2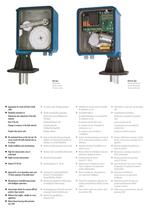 Tape type Bandversion Version ruban Versione a nastro Electronic Type Elektronische Version Version lectronique Versione elettronica ► Appropriate for nearly all kinds of bulk solids ► Absolutely insensitive to: - Dielectricity and conductivity of the bulk material - Dust in the silo - Changes in moisture of the bulk material - Products that tend to stick ► No mechanical forces on the silo roof, the sensor touches the bulk material only on its surface ► Simple installation and commissioning ► High-tech measurement, easy to understand ► Highly accurate measurement ► Output 0/4-20 mA ► Fur...
Open the catalog to page 4
All WAMGROUP S.p.A catalogs and technical brochures

Compare up to 10 products