Catalogs

>

WACHS

>

Hydraulic-Saw_Datasheet_36
Catalog excerpts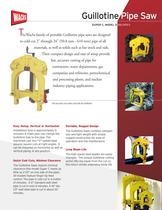 heWachs family of portable Guillotine pipe saws are designed to cold-cut 2" through 24" (50.8 mm - 610 mm) pipe of all A materials, as well as solids such as bar stock and rails. 'B Their compact design and ease of setup provide fast, accurate cutting of pipe for contractors, water departments, gas companies and refineries, petrochemical and processing plants, and nuclear industry piping applications. Fast accurate cuts under partically all conditions Easy Setup, Vertical or Horizontal Installation time is approximately 5 minutes! A chain pipe vise clamps the machined cast iron "V"-saddle base assures square cuts at right angles. It can be mounted on horizontal as well as vertical piping, in any position. Quick Cold Cuts, Minimal Clearance The Guillotine Saws require minimal clearance (the model Super C needs as little as 2-1/2" on one side of the pipe). All models feature finger tip feed control. The pipe is cold cut in a matter of minutes. A 6" standard wall steel pipe is cut in only 6 minutes. A16" dia. 1/2" wall steel pipe is cut in about 20 Portable, Rugged Design The Guillotine Saws combine compact size and light weight with simple, rugged construction for ease of Long Blade Life The high-speed steel blades are easily changed. The unique Guillotine cutting action lifts the blade from the cut on the return stroke, extending blade life.
Open the catalog to page 1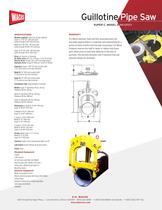 Machine Capacity: Cold cuts all pipe material Drive: Air, Electric or Hydraulic Electric Drive: 15 amp, 110 or 220 volt single phase. Clearance: Super C: 28" (711 mm) overall width Model D: 32" (813 mm) overall width Super D: 39" (991 mm) overall width Installation Time: Approximately 5 minutes. Weight: Super C: Operating: 115 lbs. (52 kg.) Stroke: Model Super C: 2" (51 mm) Controls: Single crank, manual feed. Motor on-off Lubrication: Grease fittings at all wear points Finish: Paint Standard Equipment: Air lubricator and filter (Air Model) Steel storage case (Model C S D only) Lifting eyes...
Open the catalog to page 2
All WACHS catalogs and technical brochures

Archived catalogs

Compare up to 10 products