Catalogs

>

WDGI encoders - the new incremental industry standard
Catalog excerpts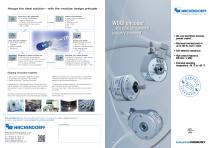 Always the ideal solution - with the modular design principle Know-how in the application • The variety of applications, adapted design and extensive construction type tests • High protection class of up to IP67 + IP69K Perfect communication • square-wave or sine/cosine • PROFIBUS • CANopen / LIFT • SAE J1939 • SSI • RS485 WDGI encoder ... the new incremental Wear-free and intelligent • Contactless; optical or magnetic • Highly integrated electronics Durable and reliable • Wide temperature range: -40 °C to +85 °C • Vibration- and shock-proof • High bearing loads of up to 500 N industry standard Designed for harsh everyday use • 400 standards and guidelines • 100 construction type tests, incl. HALT • More than 25 years of experience • 25 company standards • One solution for your application Individual, yet a series product • Multitude of connector / cable variants as standard: M12, M16, etc. • Easily adapted to your application • Mechanics, logistics and assembly • Certified pursuant to ISO 9001 / 14001 Shaping innovation together • Many years of competent application advice • Sustainable and systematic: ISO-certified • "Made in Germany"; five-year guarantee Together with the Wachendorff Group, Wachendorff Automation develops and manufactures robust rotary encoders and systems for use in industrial and automotive applications. Extensive construction type tests performed at the same time as the development process demonstrably guarantee reliable and durable use in many branches of industry and mean that mobile work machines can be put to use in the harshest of environmental conditions. The software-controlled production process ensures that each individual device is fully traceable. There are more than 1,250 series solutions in use around the world. Our Product Management and R&D teams look forward to working with you! • Die-cast aluminium housing, powder coated • Maximum bearing loads of up to 500 N, axial / radial • Self-adhesive membrane • High output frequency 600 kHz / 2 MHz • Extended operating temperature -40 °C to +85 °C Any questions? Just call us at (+49) 0 67 22 / 99 65 - 10, send us an E-Mail to wdg@wachendorff.de or call your local distributor: www.wachendorff-automation.com/distri Your distributor:
Open the catalog to page 1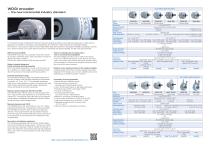 For more than 25 years, Wachendorff Automation has been developing systems and encoders for global use in a wide variety of applications in the fields of mechanical / plant engineering, lift construction, mobile machines and renewable energies. The more than 1,250 customer variants we have implemented clearly demonstrate our high degree of flexibility and absolute customer focus. Since we attach such a great deal of importance to mechanical and electrical stability, we offer a five-year guarantee. WDG has become WDGI Wachendorff Automation has completely revised the incremental encoders of...
Open the catalog to page 2
All Wachendorff Automation GmbH & Co. KG catalogs and technical brochures

Compare up to 10 products