Catalogs

>

Assembly instructions draw-wire system SZG65 with absolute encoder WDGA 36Z SSI
Catalog excerpts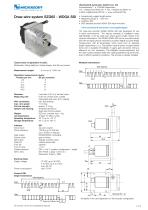 MflCHENDORFF Automation GmbH & Co. KG Wachendorff Automation GmbH & Co. KG IndustriestraBe 7 • D-65366 Geisenheim Tel.: +49(0) 6722/99 65-25 • Fax: +49(0) 6722/99 65-70 E-Mail: wdg@wachendorff.de • www.wachendorff.de • Exceptionally rugged length sensor • Measuring range: 0 - 1250 mm • Interface: SSI • IP65 absolute encoder WDGA SSI ready-mounted www.wachendorff-automation.com/szg65wdgassi The draw-wire encoder SZG65 WDGA SSI was developed for use in harsh environments. The various methods of installation mean high flexibility. It can be used even where space is tight, thanks to its compact dimensions. The SZG65 WDGA SSI can be mounted quickly and with its highly precise mechanics provides reliable accurate length measurement, with all advantages, which result from an absolute lenght measurement. e. g. The position-value is saved, if supply breaks down and is available immediately if supply gets recovered. Doing a reference run isn't necessary. The intelligent spring-suspension and the nylon-coated stainless-steel wire cable guarantee long-service life, even in difficult operating conditions. The encoder is already installed. Multipath transmission Clock sequence Typical areas of application include: lift/elevators, lifting platforms, theatre stages, fork lifts and cranes. Resolution measurement ranges: Deviation: Measuring wire: Wire connection: max. wire speed: Pull out strength: System-unit housing: Weight: Life expectancy: Operating temperature: Storage temperature: Less than 0.02 % of the final value. 0.48 mm of thick nylon coated high-grade steel wire. (incl. coating) eye, see drawing 7.5 m/sec. approx. 0.14 kg anodised aluminium/ steel case chrome-plated SZG incl. encoder max. 1 kg at least 10 million cycles -20 °C up to +70 °C -30 °C up to +80 °C Interface Clock input: Clock frequency: Data output: Output code: SSI output: Parity bit: Error bit: Turn on time: Positive direction Set to zero: SSI via opto-coupler 100 kHz up to 500 kHz up to 2 MHz on request RS485/RS422 compatible gray or binary Angular-/position value optional (even/odd) optional <1.5 s DIR = +Ub O position configuration ~ length Set: Preset = apply +Ub for 2 s Deactivate: Preset = GND Electrical Data: Supply voltage: Power consumption: Protocol SSI: Single transmission Clock sequence 2012-06-22 / Errors and modifications reserved. All details in mm and dependent on the encoder configuration.
Open the catalog to page 1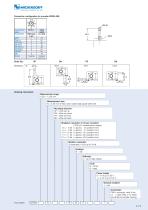 Connection configuration for encoder WDGA SSI: Connection / cable Description GND Plus U+ SSI CLK+ SSI CLKSSI DATA+ SSI DATAPRESET DIR Shield cable outlet L2, axial wh bn gn ye gy pk bu Ordering information: Measurement range: 1250 = 1.250 mm Measurement wire: N = 0.48 mm of thick nylon coated high-grade steel wire Mounting direction: UP = Wire exit up DN = Wire exit down FR = Wire exit front BK = Wire exit back Singleturn resolution in bit per revolution ( 1250 mm measurement ranges) 8 => 8 bit (= approx. 2.5 position /mm) 9 => 9 bit (= approx. 5.1 position /mm) 10 => 10 bit (= approx....
Open the catalog to page 2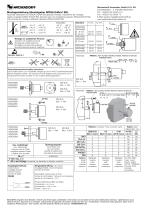 MflCHENDORFF Montageanleitung Absolutgeber WDGA EnDra® SSI, Assembly instructions for WDGA EnDra® SSI absolute encoder, Instructions de montage, capteur angulaire WDGA EnDra® SSI, Istruzioni per l'uso trasduttore assoluto WDGA EnDra® SSI Instrucciones de montaje codificador absoluto WDGA EnDra® SSI. Wachendorff Automation GmbH & Co. KG IndustriestraBe 7 • D-65366 Geisenheim Tel.: +49(0) 6722/99 65-414 Fax: +49(0) 6722/99 65-70 E-Mail: support-wdga@wachendorff.de www.wachendorff-automation.de Montage nur qualifiziertes Personal Assembly only qualified personnel Montage pair qualifie...
Open the catalog to page 3
All Wachendorff Automation GmbH & Co. KG catalogs and technical brochures

Compare up to 10 products