Catalogs

>

Accurate positioning for marking systems with LMSLA12
Catalog excerpts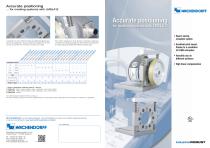 ... for marking systems with LMSLA12 A resolution of up to 0.008 mm/pulse provides the highest accuracy for any application. Output circuits are available in HTL from 10 VDC to 30 VDC and TTL from 4.75 VDC to 5.5 VDC. The contact pressure of 25 N ensures cushioned suspension. The system is individually adapted to the surface to be measured, by using measuring wheels with different surface types. * Range of application measuring wheel U = 200 mm 1 LMSxxxKH Plastic, painted surfaces, paper, pasteboard, wood, metal, textiles. 2 LMSxxxKG Plastic, painted surfaces, paper, pasteboard, wood, metal, textiles. 3 LMSxxxNG Textiles. JtflCHENDORFF • Space-saving complete system • Excellent print layout, thanks to a resolution of 0.008 mm/pulse • Versatile use on different surfaces • High linear compensation For further assistance please feel free to contact us. We would be happy to help you to find the suitable resolution, measurement wheel, cable length or other accessory to optimize your application. Any Questions? Just call Tatjana Weigelt at +49 (0) 6722/9965-242, send her an E-Mail to tw@wachendorff.de or call your local distributor: www.wachendorff-automation.com/distri Your distributor:
Open the catalog to page 1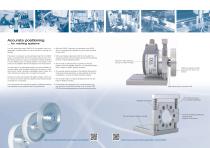 Accurate positioning ... for marking systems The new measuring system LMS LA12 is a perfectly tuned, preassembled complete system for use in the field of marking and labelling. • With their IP65/67 protection, the encoders in the WDGI series are designed and adapted for use in harsh industrial environments. The system, consiting of an incremental encoder from the WDGI series, a encoder holder with 25 N contact pressure and a nonslip measuring wheel, is used to continuously measure the speed in many different types of marking systems. The position of the product to be labelled is determined...
Open the catalog to page 2
All Wachendorff Automation GmbH & Co. KG catalogs and technical brochures

Compare up to 10 products