Catalogs

>

CUTTEX 750 · 1300 · PLUS Bilateral ultrasonic cutting machine for tubular fabric
Catalog excerpts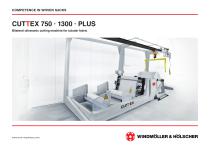 COMPETENCE IN WOVEN SACKS CUTTEX 750 · 1300 · PLUS Bilateral ultrasonic cutting machine for tubular fabric
Open the catalog to page 1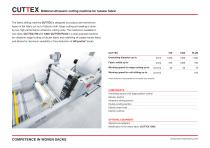 CUTTEX Bilateral ultrasonic cutting machine for tubular fabric The fabric slitting machine CUTTEX is designed to produce and rewind two layers of flat fabric cut out of tubular cloth. Edge-cutting and sealing is done by two high performance ultrasonic cutting units. The machine is available in two sizes: CUTTEX 750 and 1300. CUTTEX PLUS is a dual-purpose machine for ultrasonic edge cutting of tubular fabric and rollslitting of coated woven fabric and allows for maximum versatility in the production of AD proTex® sacks. Working speed for edge cutting up to Working speed for roll slitting up...
Open the catalog to page 2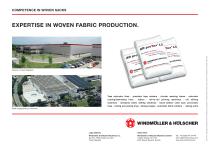 COMPETENCE IN WOVEN SACKS Factory in Czech Republic Tape extrusion lines · precision tape winders · circular weaving looms · extrusion coating/laminating lines · tubers · roll-to-roll printing machines · roll slitting machines · ultrasonic fabric slitting machines · block bottom valve sack conversion lines · cutting and sewing lines · baling presses · automatic fabric winders · dosing units Legal address: Windmöller & Hölscher Machinery k.s. Haj 374, 79812 Kralice na Hane Czech Republic Sales office: Windmöller & Hölscher Machinery GmbH Triester Strasse 10/1/122 2351 Wiener Neudorf, Austria...
Open the catalog to page 3
All W&H Group catalogs and technical brochures

Compare up to 10 products