Catalogs

>

vlux

>

Photometric Calculation
Catalog excerpts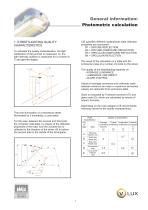 General information: Photometric calculation 1. STREETLIGHTING QUALITY CHARACTERISTICS To calculate the quality characteristics, the light distribution of the luminair is measured, i.e. the light intensity (cd/klm) is measured for a number of C and gamma angles. CIE specifies different roadsurfaces what reflection properties are concerned: R1 = DIFFUSE REFLECTION R2 = DIFFUSE-COMPOUND REFLECTION R3 = SPECULAR-COMPOUND REFLECTION R4 = SPECULAR REFLECTION The result of the calculation is a table with the luminance value of a number of points on the street. The quality of the streetlighting depends on: - AVERAGE LUMINANCE - LUMINANCE UNIFORMITY - GLARE CONTROL Values of average luminance and uniformity (ratio between minimum an mean or maximum luminance values) are deducted from luminance table. Glare is evaluated by Treshold Increment (TI) and glare mark (G), which are calculated by means of empiric formulas. Depending on the road category CIE recommends following values for the quality characteristics: Then the illumination of a theoretical street, illuminated by 5 luminaires, is calculated. For the area, between the second and third pole, the computer calculates, by means of the reflection properties of the road, how the incident flux is reflected in the direction of the driver, 60 m before the second pole in the middle of the drivinglane. Road Classification
Open the catalog to page 1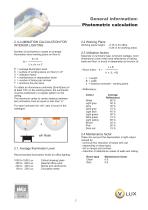 General information: Photometric calculation 2. ILLUMINATION CALCULATION FOR INTERIOR LIGHTING Number of luminaires to create an average illumination level working plane on floor is: E x S N = U x d x n x F E = average illumination level S = surface of working plane (on floor) in m2 U = utilisation factor d = maintenance or deprecation factor n = number of lamps per luminair F = luminous flux per lamp To obtain an illuminance uniformity (Emin/Eave) of at least 70% on the working plane, the luminaires must be positioned in a regular pattern on the ceiling. The maximum center to center...
Open the catalog to page 2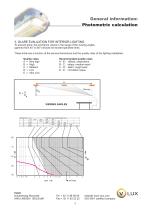 General information: Photometric calculation 3. GLARE EVALUATION FOR INTERIOR LIGHTING To prevent glare, the luminance values in the range of the viewing angles (gamma from 45° to 85°) should not exceed specified limits. These limits are a function of the service illuminance and the quality class of the lighting installation. Quality class A = Very high B = High C = Medium D = Low E = Very Low Recommended quality class A - B : offices, classrooms B - C: shops, medium work C - D: stairs, rough work D - E: circulation areas VLUX Industrieweg Roosveld 3400 LANDEN BELGIUM website www.vlux.com...
Open the catalog to page 3
All Vlux catalogs and technical brochures

Compare up to 10 products