Catalogs

>

vlux

>

LiLi range
Catalog excerpts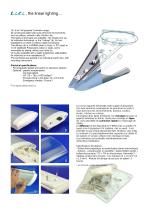 LiLi is an "all-purpose" luminaire range. Its curved and sober look suits all kind of environments, such as offices, schools, halls, kitchen, etc ... Two types of end caps are available ; the classic-one (a), for individual luminaires, or the "midcap" (b), for line installations (c) (with or without rapid connectors). The diffuser (d) is in PMMA (clear or frost), in PC (opal) or in UV stabilised Polystyrene (clear or opal), and is removable by sliding, without any tools (e). Lili is also available with a cable suspension (adjustable), for individual or line installations (f). The luminaires...
Open the catalog to page 2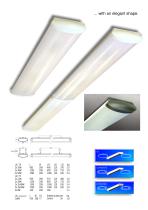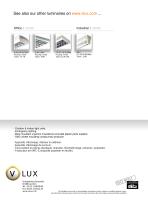 See also our other luminaires on www.vlux.com ... Office & similar SLIM (36-58-70W) Housing: metal Tubes : T5 - T8 Industrial & similar SLIM (18W) Housing: metal Tubes : 4xT8 ECHO (18-36-58W) Housing: metal Tubes :(1>4) xT8 - Outdoor & indoor light units. - Emergency lighting. - Blow moulded, injection moulded & extruded plastic parts supplier. - SMC (sheet moulding compounds) producer. - Appareils d'éclairage, intérieur & extérieur. - Appareils d'éclairage de secours. - Sous-traitant en pièces plastiques (injection, thermoformage, extrusion, polyester). - Producteur de SMC (Composite...
Open the catalog to page 4
All Vlux catalogs and technical brochures

Compare up to 10 products