Catalogs

>

vlux

>

BUBA+
Catalog excerpts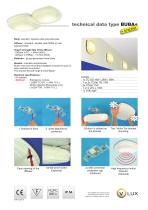 technical data type BUBA+ ket c + bra Body: standard; injected white polycarbonate. Diffuser : standard; injected opal PMMA or opal polycarbonate. Impact strenght data of the diffusor : - Diffuser in PC : > 6Nm (IK08). - Diffuser in PMMA : > 0.7Nm (IK05). Reflector : glossy galvanised metal plate. Bracket : injected polycarbonate. Buba+ has a pre-mounting installation bracket for quick & easy electrical connection. This bracket fits both large & small Buba+. Electrical specifications : - HF-ballasts - Optional : - Emergency module. (1x28W TC-DD, 1x18W TC-L). - Motion detector.(Buba large only). (1x22W T5R, 1x18W TC-L). 2. wires attached to connector. Two "clicks" for bracket mounting. Easy opening of the diffuser vandal-proof screw (Optional) 3 poles connector protection cap (Optional) High frequency motion detector. (Optional) The liabilities are bound to the published informations, which might be modified without notice.
Open the catalog to page 1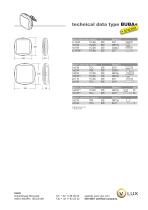 technical data type BUBA+ ket c + bra Buba+ Small (with bracket) 1x 7/9 W TC-Sel 1x16 W TC-DD 1x18 W TC-Del 2x 7/9 W** TC-Sel Buba+ Large Emergency 1x28 W** TC-DD 1x18 W** TC-L Buba+ Large Motion detector 1x22 W TR5 1x18 W TC-L Buba+ Large (with bracket) 1x18 W TC-L 1x22 W TR5 1x28 W TC-DD 1x38 W** TC-DD 2x11 W TC-Sel 2x18 W TC-L VLUX Industrieweg Roosveld 3400 LANDEN BELGIUM website www.vlux.com ISO 9001 certified company.
Open the catalog to page 2
All Vlux catalogs and technical brochures

Compare up to 10 products