Catalogs

>

SLA300/SLA450 - STEREOLITHOGRAPHY 3D PRINTER
Catalog excerpts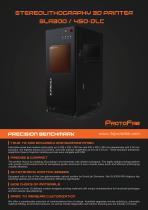 | TRUE TO CRD RCCURRCU ADD SURFACE FIHISH Fabricates small and medium-sized parts up to 300 x 300 x 300 mm and 450 x 450 x 300 mm respectively with 0.05 mm accuracy, the highest among our printers, and with surface roughness as low as 0.05 pm. These standard tolerances outperform those of injection-molding and can even compete with CNC. | PRECISE & COmPflCT The perfect choice for enabling 3D printing in environments with limited workspace. The highly stable printing platform with granite reinforcement and an aerospace-grade aluminum Z-axis module make quick and efficient prototyping virtually effortless. | DUTSTRnDinc PRinTinc speeds Equipped with a top of the line galvanometer optical system by ScanLab Germany, the SLA300/450 displays top scanning speeds and enhances production efficiency significantly. | WIDE CHOICE OF ITIRTERIRLS A selection of over 10 different custom-designed printing materials with unique characteristics for functional prototypes and low-volume manufacturing. I fTIRDE TO mERSURE CUSTOfTlIZRTIOn We offer a considerable selection of customizations free of charge. Available upgrades include autofocus, automatic material refilling, environment sensors, as well as remote diagnostics and control, ensuring you are industry 4.0 ready.
Open the catalog to page 1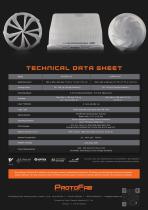 Accuracy Layer Thickness Laser Type Optical System Operating Software CAD Interface Machine Size W x D x FI Ambient Temperature Relative Humidity Power Requirements SCANLAB © OPTEX Part Size < 100 mm (3.9 in): ±0.1 mm (±0.004 in) Diode-pumped solid-state laser Nd:YV04 SCANLAB Galvanometer Scanner Beam Size: 0.15- 0.18 mm Sirius Intelligent Printing Control Software Linux / Windows (Optional) STL,CTL,OBJ,PLY,ZPR,ZBD,AMF,WRL,3DS, FBX,MJPDDD,3DPRINT,BFF,IGES.IGS,STEP and STP Less than 40% 200 - 240 VAC 50 / 60 Hz 10A (Available according to local voltage standard) N AUTODESK' NETFABB...
Open the catalog to page 2
All Vistar (Xiamen) Industries Co. catalogs and technical brochures

Compare up to 10 products