Catalogs

>

ProtoFab SLA600E
Catalog excerpts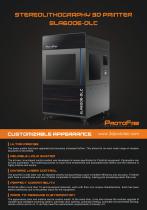 | ULTRA PREGI5E The beam quality has been upgraded and accuracy increased further. This allows for an even wider range of complex structures to be printed. | RELIABLE LI11UX SYSTEm The all-new Linux-based control system was developed in-house specifically for ProtoFab equipment. Parameters can be fully automated. The modeling process is much more streamlined and automated than before and the interface is highly intuitive and secure. | DYflAmiC LASER COnTROL The powerful 3-watt laser can be adjusted smartly during printing to give incredible efficiency and accuracy. Finished parts have a smoothness and level of detail comparable to injection molding, making post-processing easier than ever. | PERFECT COmPRTIBILITY ProtoFab offers more than 10 self-developed materials, each with their own unique characteristics. Each has been tested extensively and is the perfect match for this equipment. | fTlADE TO (TIEASURE CUSTOmiZATIOn The appearance,color and materia can be custom madel. At the same time, it can also choose the modular upgrade of variable spot intelligent scanning system, automatic door opening, automatic feeding, automatic environmental sensing, remote control and so on. It can fully meet the customization requirements of industry 4.0.
Open the catalog to page 1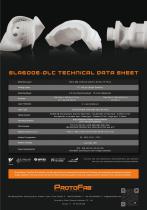 Printing Speed Scanning Speed Accuracy Layer Thickness Laser Type Optical System Operating Software CAD Interface Machine Size W x D x H Ambient Temperature Relative Humidity Power Requirements 75 -180 g/h (Single Scanner) 6 0 m/s (Recommended) 10 0 m/s (Maximum) Part Size < 100 mm (3.9 in): Part Size a 100 mm(3.9 in): 0.1 mm (0.004 in) Diode-pumped solid-state laser Nd:YVO< SCANLAB Galvanometer Scanner Beam Size: the diameter of fixed spot; 0.08mm-0.15m the diameter of variable spot: Samfl spot: O.OBmm-0.15m; Large spot: 0.45mm Sirius Intelligent Printing Control Software Linux / Windows...
Open the catalog to page 2
All Vistar (Xiamen) Industries Co. catalogs and technical brochures

Compare up to 10 products