Catalogs

>

ProtoFab SLA600B
Catalog excerpts
| high quality impoRTAnT camponEriTS The core components (laser controller, SERVO System) are selected from well-known brands al! over the world, effectively supporting and ensuring the high reliability for the overall operation of the equipment. | SUPER HIGH VALUE UJITH COfTIPETITIVE PRICE This equipment is our independent research and deveiopment.lt is low cost but high quality which can be called "Kind of cost" | HIGH SPEED, WELL PRECISION GOOD QUALITY German original high-speed scanner, greatly increase production efficiency, the size up to 600mm x 600mm x 400mm, minimum layer thickness up to 0.05mm, surface roughness is only 0.05pm, well precision, smooth surface, easy to do all kinds of post-processing. I mULTIPLE RESinS Offering a wide range of resins,different resin can meet different customer and industries requirement. | PER50nALIZED CUSTOmiZATIQn OLC scanning system, automatic door, automatic feeding, automatic environmental sensing, remote control and other functions support customization to meet the needs of industrial 4.0 requirement.
Open the catalog to page 1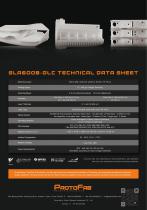 Printing Speed Scanning Speed Accuracy Layer Thickness Laser Type Optical System Operating Software CAD Interface Machine Size W x D x H Ambient Temperature Relative Humidity Power Requirements 75 -180 g/h (Single Scanner) 6 0 m/s (Recommended) 10.0 m/s (Maximum) Part Size < 100 mm (3.9 in): Part Size a 100 mm(3 9 in): 0.1 mm (0 004 in) Diode-pumped solid-state iaser Nd:YVO* SCANLAB Galvanometer Scanner Beam Size; the diameter of fixed spot: 0.08mm-0.15m the diameter of variable spot: Samll spot: 0.08mm-0.15m; Large spot: 0.45mm Sirius Intelligent Printing Control Software Linux I Windows...
Open the catalog to page 2
All Vistar (Xiamen) Industries Co. catalogs and technical brochures

Compare up to 10 products