Catalogs

>

VAISALA

>

Optimizing gas turbine performance with precise humidity measurements
Catalog excerpts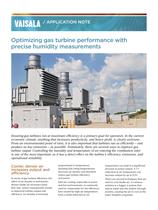 Optimizing gas turbine performance with precise humidity measurements Ensuring gas turbines run at maximum efficiency is a primary goal for operators. In the current economic climate, anything that increases productivity, and hence profit, is clearly welcome. From an environmental point of view, it is also important that turbines run as efficiently – and produce as few emissions – as possible. Fortunately, there are several ways to improve gas turbine output. Controlling the humidity and temperature of air entering the combustion inlet is one of the most important, as it has a direct effect on the turbine's efficiency, emissions, and operational reliability. / APPLICATION NOTE Cooler, denser air increases output and efficiency In terms of gas turbine efficiency, the effect of air density is well known: denser intake air increases mass flow rate, which consequently results in improved turbine output and efficiency. Air density is inversely proportional to temperature, meaning that rising temperatures decrease air density and therefore reduce gas turbine efficiency and power. Inlet-air cooling, especially in warm and hot environments, is commonly used to compensate for the efficiency loss caused by high air temperature. Even a small reduction in air temperature can lead to a significant increase in power output. A 1°C reduction in air temperature can increase output by up to 0.5%. There are several techniques that are used to cool intake air. A common solution is a fogger, a system that injects water into the airflow through nozzles, causing the air to cool as the water droplets evaporate.
Open the catalog to page 1

A secondary benefit of fogging is that the increased humidity of the air reduces the NOx emissions produced by the combustion process. Apart from inlet-air cooling in warm or hot conditions, humidity can also be a critical factor in avoiding icing in cold climates. If humid air is close to freezing, anti-icing systems are needed to protect the compressor from the damage that fast-moving ice particles would cause. Optimal control needs accurate humidity information Given the high speed of air within the air inlet system, water droplets and ice particles must be prevented from entering the...
Open the catalog to page 2

For more information, visit www.vaisala.com or contact us at sales@vaisala.com Ref. B211073EN EN-A ©Vaisala 2010 This material is subject to copyright protection, with all copyrights retained by Vaisala and its individual partners. All rights reserved. Any logos and/or product names are trademarks of Vaisala or its individual partners. The reproduction, transfer, distribution or storage of information contained in this brochure in any form without the prior written consent of Vaisala is strictly prohibited. All specifications — technical included — are subject to change without notice....
Open the catalog to page 3
All VAISALA catalogs and technical brochures

Archived catalogs
Compare up to 10 products