Catalogs

>

Venturi Powered, Pulse-Jet Filter Cleaning Vacuums for Class II Div II Environments Model 40008, 40012, and 40013
Venturi Powered, Pulse-Jet Filter Cleaning Vacuums for Class II Div II Environments Model 40008, 40012, and 40013


4

Pages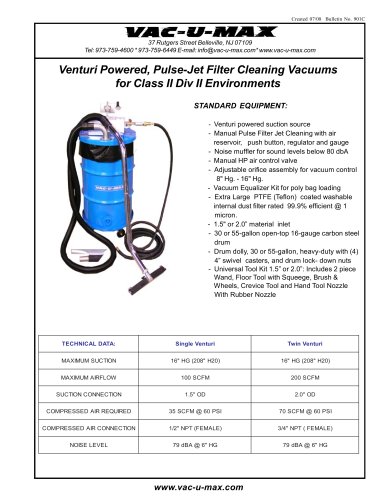 Catalog excerpts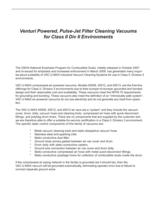 The OSHA National Emphasis Program for Combustible Dusts, initially released in October 2007 and re-issued for emphasis and increased enforcement in March 2008, has generated many inquir- ies about suitability of VAC-U-MAX Industrial Vacuum Cleaning Systems for use in Class II, Division 2 environments.VAC-U-MAX compressed-air powered vacuums, Models 40008, 40012, and 40013, are the first-lineofferings for Class II, Division 2 environments due to their bumper-to-bumper grounded and bonded design and their reasonable cost and availability. These vacuums meet the NFPA 70 requirements for...
Open the catalog to page 2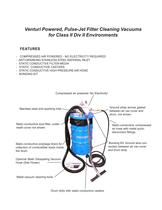 COMPRESSED AIR POWERED - NO ELECTRICITY REQUIRED!- ANTI-SPARKING STAINLESS STEEL MATERIAL INLET- STATIC CONDUCTIVE FILTER MEDIA - STATIC CONDUCTIVE CASTERS - STATIC CONDUCTIVE HIGH PRESSURE AIR HOSE - BONDING KIT Static-conductive polybags liners for collection of combustible dusts inside the drum.Metal vacuum cleaning tools. Stainless steel anti-sparking inlet.Static-conductive dust filter, under-neath cover not shownGround strap across gasketbetween air vac cover and drum, not shown. Drum dolly with static-conductive casters. Bonding Kit: Ground wire con-nection between air vac cover and...
Open the catalog to page 3
All VAC-U-MAX catalogs and technical brochures

Compare up to 10 products