Catalogs

>

BAC
Catalog excerpts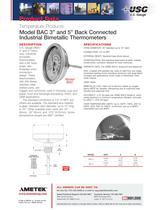 Temperature Products Model BAC 3" and 5" Back Connected Industrial Bimetallic Thermometers DESCRIPTION U.S. Gauge offers 3" and 5" heavy duty, industrial bimetallic thermometers with a 90º back angle, rear threaded union connection design. These thermometers, Model with 300-Series BAC stainless steel wetted parts, are rugged and commonly used in industrial, pulp and paper, food and beverage processing, HVAC, and OEM applications. The standard connection is 1/2-14 NPT, but others are available. The standard lens material is glass. Standard stem diameter, up to 12" long, is .25". Other available stem sizes are .24" (6mm), .32" (8mm), and .375" (9.52mm). Some temperature ranges are NSF® certified. SPECIFICATIONS STEM DIAMETER: .25" standard up to 12" stem CONNECTION: 1/2-14 NPT EXTERNAL RESET: Standard (see photo below) CONSTRUCTION: 304 stainless steel external parts, welded construction, corrosion resistant to most chemicals HERMETIC SEAL: Per ASME B40.3, dustproof and leakproof DIAL: Cupped anti-parallax dial, easy to read from any angle, minimizes reading errors; anodized aluminum with large black numbers and graduations. Outer scale in Fahrenheit; inner scale Celsius. LENS: Glass BIMETALLIC COIL: Helix coil is silicone coated on ranges below 500ºF for vibration dampening and to maximize heat transfer and response time ACCURACY: ±1% full span per ASME B40.3 Grade A, when using maximum or minimum temperature indicator, accurate to within 1-1/2% full span OVER TEMPERATURE LIMITS: Up to  250ºF, 100%; 250º to 550ºF, 50%; 550º to 1000ºF, continuous use up to 800ºF, intermittent use over 800ºF B A .600 (15.24) 1/2-14 NPT STANDARD STEM LENGTHS 2.5 (63.5) 4 (101.6) 6 (152.4) 9 (228.6) 12 (304.8) *15 (381.0) *18 (457.2) *24 (609.6) MODEL A B BAC-3 ø.25 (6.35) UNIT inches mm 1.113 28.27 3.132 79.55 BAC-5 inches mm 1.113 28.27 5.006 127.15 INCHES (MM) *OPTIONAL ALL ORDERS CAN BE SENT TO: On-line fax: 215-323-9450 or e-mail to usg.sales@ametek.com © 2008, by AMETEK, Inc. All rights reserved. Printed in the U.S.A. 908PDF (160166) Sales/Technical Support: 215-257-6531 900 Clymer Avenue Sellersville, PA 18960 U.S.A. Customer Service: 727-536-7831 8600 Somerset Drive Largo, FL 33773 U.S.A. Specifications are subject to change without notice. Visit our Web site for the most up-to-date information.
Open the catalog to page 1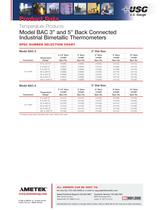 Temperature Products Model BAC 3" and 5" Back Connected Industrial Bimetallic Thermometers SPEC NUMBER SELECTION CHART Model BAC-3 Connection 3" Dial Size Temperature Range* 2-1/2" Stem Length 4" Stem Length 6" Stem Length 9" Stem Length 12" Stem Length Spec No. Spec No. Spec No. Spec No. Spec No. 25º to 125º FC 415086C 415093C 415100C 415107C 415114C 0º to 200º FC 415087C 415094C 415101C 415108C 415115C 0º to 250º FC 1/2-14 NPT 415088C 415095C 415102C 415109C 415116C 50º to 300º FC 415089C 415096C 415103C 415110C 415117C 50º to 400º FC 415090C 415097C 415104C 415111C 415118C 50º to 550º FC...
Open the catalog to page 2
All U.S. GAUGE catalogs and technical brochures

Archived catalogs

Compare up to 10 products