Catalogs

>

CLAMPS FOR FLEXIBLE PIPE & HOSE
Catalog excerpts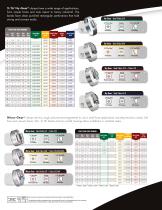 9/16" Hy-Gear® clamps have a wide range of applications, from simple home and auto repair to heavy industrial. The bands have clean punched rectangular perforations that hold strong and connect easily. Hy-Gear Ideal-Tridon 63-4 5/16" Hex Head FIND YOUR PART NUMBER Ideal-Tridon Ideal-Tridon IdealIdeal68-0 50-0 Tridon Tridon Plated Carbon Steel Hy-Gear Ideal-Tridon 64-0 3/8" Hex Head Micro-Gear® clamps are tiny, tough and precision-engineered to use in small hose applications including emission control, fuel lines and vacuum hoses. Slim, 5/16" bands and low profile housings allow installation...
Open the catalog to page 2
FIND YOUR PART NUMBER Size Combo Hex Ideal-Tridon 54-0 3/8" Safety-Collared Hex • Deep-Slotted Plated Carbon Steel Combo-Hex® clamps are the clamps professional mechanics choose most often. Particularly helpful in hard-to-reach areas, they feature an exclusive, safety-collared, deep-slotted screw design that prevents screwdrivers from slipping and puncturing the hose wall. Combo-Hex clamps can be installed with a screwdriver, nutdriver or socket wrench. Lox-On® clamps are for extra-tough installations. The unique design provides double-locking security with a 301 stainless steel buckle and...
Open the catalog to page 3
Snaplock® Quick Release worm drive clamps are good for closed system applications where the clamp must be disengaged to be applied. The swivel-action locking of screw to band makes installation and removal much faster. All Snaplock housings are 200 stainless steel. Snaplock Ideal-Tridon 56-0 FIND YOUR PART NUMBER Plated Carbon Steel Plated Carbon Steel Ideal-Tridon 500 Ideal-Tridon 500 Tridon 500/LS Ideal-Tridon 58-0 Ideal-Tridon Tridon 58-0/LAS 58 Ideal-Tridon 550 Ideal-Tridon Tridon 550/LSS Tridon 550 Plated Carbon Steel Swivel-action locking of screw to band makes Snaplock a truly...
Open the catalog to page 4
All Tridon Clamp Products catalogs and technical brochures

Archived catalogs
Compare up to 10 products