Catalogs

>

MACHU TEST BATH
Catalog excerpts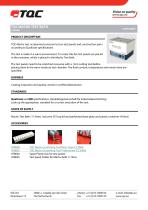 TQC MACHU TEST BATH VF8700 PRODUCT DESCRIPTION TQC Machu test, accelerated corrosion test on test panels and construction parts according to Qualicoat specifications. The test is made in a warm environment. To create this the test panels are placed in the container, which is placed in the Machu Test Bath. The test panels need to be scratched crosswise with a 1mm cutting tool before placing them in the warm moisture test chamber. The fluid content, temperature and remain time are specified. BUSINESS Coating inspection and quality control in certified laboratories STANDARDS Qualicoat and QIB specifications. (Qualitatsgemeinschaft fur Industriebeschichting) Look up the appropriate standard for a correct execution of the test. SCOPE OF SUPPLY Machu Test Bath (11 litres), inclusive SST top lid and perforated base plate and plastic container (4 litres) ACCESSORIES VF8600TQC Machu Scratching Tool Basic (type CC2000) VF8605TQC Machu Scratching Tool Professional (CC3000) Spare Plastic box for test panels Test panel holder for Machu bath 11 litres TQCB.V. 2908 LL Capelle aan den IJssel phone:+31 (0)10-7900100 e-mail: info@tqc.eu
Open the catalog to page 1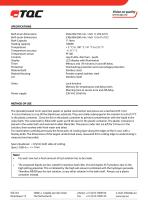 Vision on quality www.tqc.eu SPECIFICATIONS Bath inner dimensions Bath outer dimensions Bath Capacity Heating capacity Temperature Temperature accuracy Temperature sensor Controls Display Timer Protection Material bath Material housing Lid 302x240x150 mm / inch 11.9x9.5x5.9 338x280x260 mm / inch 13.3x11x10.2 11 liters 1000W + 5 ° C to 100 ° C / 41 ° F to 212 ° F +/- 0.1 ° C PT100 Jog shuttle dial (turn - push) LCD display with illumination 99hours and 59 minutes on and off delay Overheating protection and overvoltage protection Stainless steel Powder coated stainless steel Stainless Steel...
Open the catalog to page 2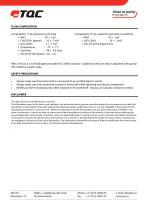 FLUID COMPOSITION Composition A for aluminum and steel • NaCI : 50 +- 1g/l • Test time : 48 +- 0,5 hour Composition B for coated zinced steel or sendzimir • NaCl : 50 +- 1g/l After 24 hour a 5 ml/l hydrogen peroxide H2O2 (30%) solution is added and the pH value is adjusted with glacial (CH3COOH) or caustic soda. SAFETY PRECAUTIONS • Always make sure the instrument is connected to an earthed electric socket. • Always make sure the instrument's power is turned off while adjusting any electric component • NEVER put the test solution/any other solution in the bath itself. Always...
Open the catalog to page 3
All TQC Sheen BV catalogs and technical brochures

Archived catalogs
Compare up to 10 products