Catalogs

>

INSPECTOR FLASHLIGHT
Catalog excerpts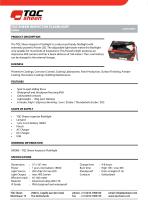 TQC SHEEN INSPECTOR FLASHLIGHT DI0080 The TQC Sheen Inspector Flashlight is a robust and handy flashlight with extremely powerful Power LED. The adjustable light beam makes this flashlight very suitable for most kinds of inspections. This Powerful light produces an impressive 400 Lumens and has a beam distance of 160 meters. The Li-ion battery can be charged in the external charger. BUSINESS Protective Coatings, Corrosion Control, Coating Laboratories, Paint Production, Surface Finishing, Powder Coating, Decorative Coatings, Building Maintenance FEATURES • Spot to spot sliding focus • Waterproof and shockproof housing IP65 • Gold-plated contacts • Lightweight - 150g (excl. Battery) • 6 modes: High / Step-less dimming / Low / Strobe / Thunderbolt strobe / SOS • TQC Sheen Inspector flashlight • Lanyard • 1 pcs Li-ion battery 18650 • Pouch • AC Charger • DC Charger DI0080 - TQC Sheen Inspector Flashlight SPECIFICATIONS Dimensions : 37 x 167 mm Charge time : 4-8 hours Power : 1 pcs Li-Ion battery 18650 Burn time : High 10h / Low 30h Light Source : LED chip US Cree LED Shockproof : from a height of 1m Light Output : max. 400 Lumen Contacts : Gold plated Effective reach : 45-160 meter Material : Aluminium alloy 6061-T6 IP Grade : IP65 dustproof and waterproof TQC Sheen 2908 LL Capelle aan den IJssel phone: +31 (0)10-7900100 email: info@tqcsheen.com
Open the catalog to page 1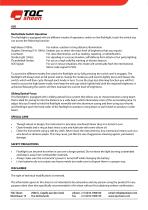 Multi-Mode Switch Operation This flashlight is equipped with six different modes of operation, switch on the flashlight, touch the switch you can access the following function: High Beam (100%): For indoor, outdoor or long distance illumination. Stepless Dimming (1%-100%): Enables you to select the exact level of brightness that you require. Low Beam: For close illumination, such as reading, repairing, or identification. Strobe Light (12Hz): For signaling in a rescue situation, self-defense from attack or fun party lighting. Thunderbolt Strobe: For use as a high...
Open the catalog to page 2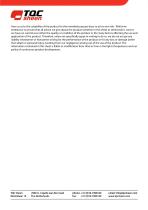 from us as to the suitability of the product for the intended purpose does so at his own risk. Whilst we endeavour to ensure that all advice we give about the product (whether in this sheet or otherwise) is correct we have no control over either the quality or condition of the product or the many factors affecting the use and application of the product. Therefore, unless we specifically agree in writing to do so, we do not accept any liability whatsoever or howsoever arising for the performance of the product or for any loss or damage (other than death or personal injury resulting from our...
Open the catalog to page 3
All TQC Sheen BV catalogs and technical brochures

Archived catalogs
Compare up to 10 products