Catalogs

>

CROSS CUT ADHESION TEST KIT CC1000
Catalog excerpts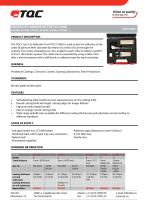 PRODUCT DESCRIPTION The TQC Cross Cut Adhesion Test KIT (CC1000) is used to test the adhesion of dry coats of paint on their substrate by means of a series of cuts through the coating. Two series of parallel cuts cross angled to each other to obtain a pattern of 25 or 100 similar squares. The ruled area is evaluated by using a table chart after a short treatment with a stiff brush, or adhesive tape for hard substrates. BUSINESS Protective Coatings, Corrosion Control, Coating Laboratories, Paint Production STANDARDS EN-ISO 2409, ASTM D3359 FEATURES • • • • • Self-adjusting knife-holder ensures equal pressure on the cutting knife Round cutting knife with eight cutting edges for longer lifetime Ergonomically shaped handle Easy to change round cutting knife Wide range of knife sizes available for different coating thicknesses and substrates and according to different standards SCOPE OF SUPPLY -Soft grip handle incl. CC1000 holder -Hardened steel cutter (type may vary, see below) -Nylon brush -Illuminated magnifier -Adhesive tape (adhesion to steel 4.3N/cm) -4 mm Allen key -Sturdy case ORDERING INFORMATION Art-Nr. Blades Teeth distance Coating thickness on hard substrates Coating thickness on soft substrates Spare knifes
Open the catalog to page 1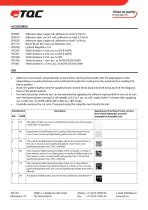 Vision on quality www.tqc.eu ACCESSORIES SP3007 Adhesion tape, single roll, adhesion to steel 4.3 N/cm SP3010 Adhesion tape, set of 3 rolls, adhesion to steel 4.3 N/cm SP3020 Adhesion tape, single roll, adhesion to steel 7.6 N/cm SP1710 Nylon Brush for Cross Cut Adhesion Test SP9700 Lighted Magnifier 2.5x VF2355 Teeth distance 1 mm, acc. to ISO & ASTM VF1861 Teeth distance: 1,5 mm, acc. to ASTM D3359<2009 USE • Make two cuts/scratch, perpendicular to each other, drawing the handle with the appropriate cutter (depending on coating thickness and substrate) through...
Open the catalog to page 2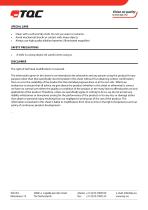 SPECIAL CARE • Clean with a soft and dry cloth. Do not use water or solvents. • Avoid mechanical shocks or contact with sharp objects • Always use high quality alkaline batteries. (Illuminated magnifier) SAFETY PRECAUTIONS • A knife is a sharp object. Be careful when using it. DISCLAIMER The right of technical modifications is reserved. The information given in this sheet is not intended to be exhaustive and any person using the product for any purpose other than that specifically recommended in this sheet without first obtaining written confirmation from us as to the suitability of the...
Open the catalog to page 3
All TQC Sheen BV catalogs and technical brochures

Archived catalogs
Compare up to 10 products