Catalogs

>

COLORCATCH
Catalog excerpts
Vision on quality www.tqc.eu COLORCATCH 3 is the first colorimeter which measures and transmits via Bluetooth® the true colour directly to an iPod touch, an iPhone or an iPad. It allows to instantly apply the true colour directly to a picture (building, wall, dress, object etc.) taken by the iPhone. Thanks to COLORCATCH 3 and «Colorix.com Pro» App for iPhone it's all done in less than 2 minutes and in only 3 steps Protective Coatings, Corrosion Control, Coating Laboratories, Paint Production, Surface Finishing, Powder Coating, Decorative Coatings, Building Maintenance FEATURES • Simply in use, only 1 button • Standard delivered with RAL and NCS colors (more than 2100 colors), more color cards you can download from the internet. • Suitable for measuring on rough surfaces • Independent of color or paint manufacturers • Nylon belt holder • Battery • Manual • 3 calibration plates • USB cable ORDERING INFORMATION Battery: Capacity: Memory: Languages: PC communication: Size: 9V alkaline type 6LR61 over 2000 measurements over 100.000 colors English, French, German, Italian, Spanish, Portuguese, Dutch, Turkish, Czech, Slovenian, Catalonian, Finish and Polish USB 120 X 40 X 35 mm TQCB.V. 2908 LL Capelleaan den IJssel phone:+31 (0)10-7900100 e-mail: info@tqc.eu
Open the catalog to page 1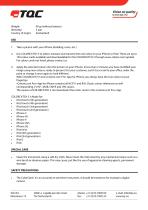 Vision on quality www.tqc.eu Weight: 99 gr (without battery) Country of origin: Zwitserland 1. Take a picture with your iPhone (building, room, etc.) 2. Use COLORCATCH 3 to select, measure and transmit the real colour to your iPhone or iPad. There are up to 150 colour cards available and downloadable for the COLORCATCH 3 through www.colorix.com/update. For colour cards not listed, please contact us. 3. Apply the selected colours into the picture on your iPhone. In less than 2 minutes you have modified your image using new colours, ready to present it to your customer, send it as...
Open the catalog to page 2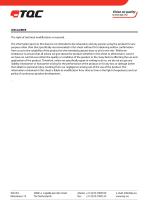 The right of technical modifications is reserved. The information given in this sheet is not intended to be exhaustive and any person using the product for any purpose other than that specifically recommended in this sheet without first obtaining written confirmation from us as to the suitability of the product for the intended purpose does so at his own risk. Whilst we endeavour to ensure that all advice we give about the product (whether in this sheet or otherwise) is correct we have no control over either the quality or condition of the product or the many factors affecting the use...
Open the catalog to page 3
All TQC Sheen BV catalogs and technical brochures

Archived catalogs
Compare up to 10 products