Catalogs

>

COLORBOX – ILLUMINATED ASSESSMENT CABINETS
Catalog excerpts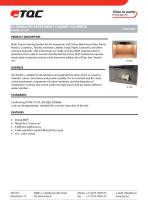 Vision on quality www.tqc.eu ILLUMINATED ASSESSMENT CABINET COLORBOX VF0600, VF1200 Multi-Source Viewing System for the Inspection and Colour Matching of Inks, Paints, Plastics, Cosmetics, Textiles, Knitwear, Leather, Food, Paper, Colorants, and other coloured materials. TQC Color Boxes are made of strong MDF material which is painted on the inside in neutral matt Munsell N5,5 Gray. Both models incorporate interlocked membrane switches with electronic ballasts for a flicker free "Instant On". The booth is suitable for all industries and applications where there is a need to maintain colour consistency and product quality. It is an essential tool for visual colour assessment, comparison of colour variations, and the detection of metamerism (colours that match under one light source but are clearly different under another). Conforming ASTM D1729, ISO3668, ISO3664. Look up the appropriate standard for a correct execution of the test. FEATURES • Strong MDF • Flicker free "instant on" • 5 different lightsources • Inside painted in neutral Munsell N5,5 gray • 110 / 220 V switch TQCB.V. 2908 LL Capelle aan den IJssel phone:+31 (0)10-7900100 e-mail: info@tqc.eu
Open the catalog to page 1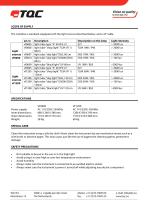 Vision on quality www.tqc.eu SCOPE OF SUPPLY The colorbox is standard equipped with the light sources described below, and a 45° table. Power supply: Inner dimensions: Outer dimensions: Weight: Clean the instrument using a soft dry cloth. Never clean the instrument by any mechanical means such as a wire brush or abrasive paper. This may cause, just like the use of aggressive cleaning agents, permanent damage. SAFETY PRECAUTIONS • Not suitable to be put in the sun or in the high light • Avoid using it in over-high or over-low temperature environment • Avoid humidity • Always make sure the...
Open the catalog to page 2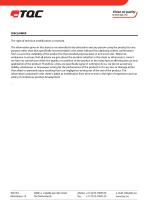 The right of technical modifications is reserved. The information given in this sheet is not intended to be exhaustive and any person using the product for any purpose other than that specifically recommended in this sheet without first obtaining written confirmation from us as to the suitability of the product for the intended purpose does so at his own risk. Whilst we endeavour to ensure that all advice we give about the product (whether in this sheet or otherwise) is correct we have no control over either the quality or condition of the product or the many factors affecting the use...
Open the catalog to page 3
All TQC Sheen BV catalogs and technical brochures

Archived catalogs
Compare up to 10 products