Catalogs

>

Walkie Reach Truck
Catalog excerpts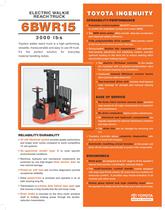 ELECTRIC WALKIE REACH TRUCK OPERABILITY/PERFORMANCE • Transistor control system (MOSFET) requires no contactors to control the separately excited drive motor (SEM). 3000 lbs Toyota's walkie reach truck is a high performing, versatile, maneuverable and easy to use lift truck. It's the perfect solution for everyday material handling duties. • The SEM drive motor offers smooth, step-less acceleration and improved battery efficiency. • Fully programmable drive system offers precise control of the truck and reduces product damage. • Spring-loaded torsion bar suspension, with automatic load-sensing adjustment and stabilizing casters, provides optimum loading on the drive tire to reduce steering effort and provide proper braking traction. • The electric lift/lower controls in the handle are equipped with a pressure-compensated valve for constant lowering in all conditions. • Contoured manual lift/lower control levers allow precise pallet placement. • Top-mounted drive unit includes dual-tapered roller bearings for strength and reduced steering effort. EASE OF SERVICE • No-tools steel service access door provides easy access to all major components for inspection and maintenance. • No drive contactors reduce routine maintenance. • All electrical and hydraulic components are logically separated for reduced maintenance problems and easy service. • The drive tire can be changed by removing one nut. RELIABILITY/DURABILITY • 24 volt electrical system provides greater performance and longer work cycles compared to some competitive 12 volt systems. • UL-approved model type E to meet specific environmental conditions. • Electrical, hydraulic and mechanical components are protected by one fully-hinged steel service door for less internal damage. • Power-on self test and run-time diagnostics provide exceptional reliability. • Entire power-train is enclosed and operates in an oil bath insuring long life. • Transmission is a heavy duty helical spur gear type that ensures a long trouble-free life and lower noise. • Drum brake is mounted on the drive motor armature shaft to multiply braking power through the doublereduction transmission. • Transistor controller allows complete diagnostics with the use of a hand-held analyzer. • Automatic resetting circuit breaker on the power unit shuts off and resets automatically to protect vital components. ERGONOMICS • Hand grips are designed at an 8.5° angle to fit the operator's natural hand position comfortably, reducing fatigue. • The multi-function control handle comes equipped with large dual thumb wheels, lift, lower and hor n buttons for enhanced comfort. It provides easy thumb-activation of all controls with either hand. • Safety glass shield and high visibility mast allows the operator to clearly see the fork tips and a wider work area.
Open the catalog to page 1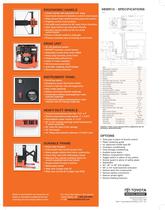 ERGONOMIC HANDLE Control handle with ergonomic 8.5° angle Dual thumb wheels for direction control & travel speed Wrap-around steel control knuckle guard and column Fingertip control of all functions Full width push buttons for lift, lower & horn functions Extra large buttons are work glove friendly Direction reverse switch at the end of the control handle • Choice of thumb control or twist grip • Pressure overload valve & lowering control fuses DRIVE UNIT • • • • • • • • • 24 volt electrical system MOSFET transistor control system Separately excited drive motor (SEM) Heavy duty hydraulic...
Open the catalog to page 2
All Toyota Industrial Equipment catalogs and technical brochures

Archived catalogs

Compare up to 10 products