Catalogs

>

Electric Pallet Truck 4,500 lb Capacity
Catalog excerpts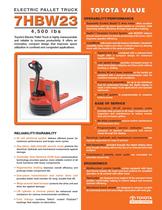 electric Pallet truck OPERABILITY/PERFORMANCE 4,500 lbs Toyota's Electric Pallet Truck is highly maneuverable and reliable to increase productivity. It offers an innovative, compact design that improves space utilization in confined and congested applications. • Separately Excited (SepExTM) drive motor offers excellent acceleration and top travel speed loaded or unloaded, while improving battery efficiency through regenerative braking. • SepExTM Transistor Control System with MOSFET delivers smooth speed control for precise positioning of the truck, which improves operator efficiency. Mode with brake override feature facilitates "pinwheel" • Creep capability inside trailers and other confined areas by allowing travel with the handle in the vertical position. • Tapered fork tips combined with a reduced head length offer a compact design for maximum maneuverability. • Low speed torque provides increased power to climb dock plates, tailgates and floor joints without lurching or stalling. • Electric lift and lower controls on the handle are equipped with a pressure-compensated valve for constant lowering in all conditions. • Performance parameters for up to ten individuals may be customized through the digital display to meet a wide range of job applications and operator skill levels. • Auto-Off system is programmable to conserve battery power. EASE OF SERVICE • One-piece lift-off service access cover provides easy access to all major components for inspection and maintenance to reduce service time and increase uptime. • No drive contactors reduce routine maintenance and inspection time. RELIABILITY/DURABILITY • 24 volt electrical system delivers efficient power for maximum performance and longer work cycles. • One-piece, high-strength service cover protects the electrical, hydraulic and mechanical components against damage. • Controller Area Network (CAN-bus) communication technology provides quicker, more reliable control of all truck functions with fewer components. • Regenerative braking improves overall efficiency and prolongs brake component life. • One-piece transmission and motor drive unit provides better heat transfer for long, trouble-free lift. • Wrap-around steel bumper protects the drive unit and drive tire against damage. • Lift cylinder is chrome plated for enhanced wear resistance for various environmental conditions. • Fork linkage contains Teflon® coated PolylubeTM bushings that require no lubrication. • Programmable service indicator notifies operators of planned maintenance and service needs through the display. • Electrical, hydraulic and mechanical components are logically separated for ease of service. • Self-diagnostics provided through the digital display allow easy trouble-shooting without the use of an external hand-held analyzer. • Polyethylene stability wear pads are reversible for extended service life. ERGONOMICS • Multifunction control handle comes equipped with large dual thumb wheels, lift, lower and horn buttons for simplified operation of all controls with either hand. • Hand grips are designed at an angle to fit the operator's hand position comfortably, helping to reduce fatigue and increase operator efficiency. • Directional thumb wheels are designed to enhance comfort by minimizing hand and wrist fatigue associated with twist grip.
Open the catalog to page 1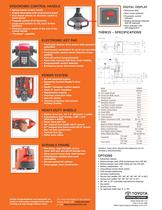 erGONOMic cONtrOl HaNDle DiGital DiSPlaY • Spring-loaded control handle • Angled hand grips with wrap-around guard • Dual thumb wheels for direction control & travel speed • Fingertip control of all functions • Large push buttons for lift, lower & horn functions • Direction reverse switch at the end of the control handle • "Pinwheel" capability • Numerical field • Hour meter indicator • Parameter control indicator • Battery discharge indicator with lift interrupt • Error indicator with self-diagnostics 7HBW23 – SPeciFicatiONS Unit: inches • Touch-pad, keyless entry system with password...
Open the catalog to page 2
All Toyota Industrial Equipment catalogs and technical brochures

Archived catalogs

Compare up to 10 products