Catalogs

>

48-volt Tow Tractor
Catalog excerpts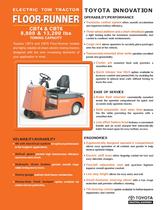 TOYOTA INNOVATION OPERABILITY/PERFORMANCE CBT4 & CBT6 8,800 & 13,200 lbs TOWING CAPACITY Toyota's CBT4 and CBT6 Floor-Runner models are highly reliable sit-down electric towing tractors designed with the ever increasing demands of your application in mind. • Transistor control system offers smooth acceleration and improved battery efficiency. • Three-wheel platform and a short wheelbase provide a tight turning radius for maximum maneuverability and control in confined work environments. • Cargo rack allows operators to securely place packages onto the rear of the vehicle. • Transversely-mounted drive motor provides excellent power and gradeability. • Center smoother ride. mounted front axle provides a option available to increase comfort and productivity by enabling the operator to release load carts without having to leave the seat. EASE OF SERVICE fluid reservoir conveniently mounted inside the operator compartment for quick and accurate daily operator checks. pneumatic dual steer tires increase tire life while providing the operator with a smoother ride. • Low-effort battery hood features a convenient handle and an assist damper that automatically holds the hood open for easy battery access. • 48 volt electrical system for optimal performance gears provide high transmission efficiency and lower noise levels. drum brakes while towing heavy loads. provide smooth stops • Heavy-gauge unitized steel frame construction. • Heavy-duty front bumper added chassis protection. • Ergonomically designed operator's compartment allows easy operation of all controls and pedals to help reduce operator fatigue. • Electric shift lever offers fingertip control for fast and easy direction changes. • Fore/aft adjustable seat and spacious legroom improve overall operator comfort. • Low step height allows for easy entry and exit. • Small-diameter steering wheel with a two-stage reduction unit provides effortless steering. • Tilt steering column option available to further improve ergonomics and comfort.
Open the catalog to page 1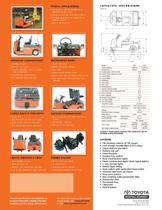 TYPICAL APPLICATIONS • Towing parts and sub-assemblies at manufacturing facilities • Towing carts at mail distribution centers • Transport n p i g roducts at industrial and chemical plants OPERATOR COMPARTMENT • Battery discharge indicator • Fore/aft adjustable seat for a wide range of operators • Hour meter •E rgonomically angled pedals • E e t i s i t l v r f r f rward and reverse lcrc hf ee o o • Tilt steering column (optional) • Seat switch with dedicated hour meter (optional) CARGO RACK & TOW HITCH BATTERY COMPARTMENT • Cargo rack • Rear tow hitch (pin and clevis type) • Battery hood...
Open the catalog to page 2
All Toyota Industrial Equipment catalogs and technical brochures

Archived catalogs

Compare up to 10 products