Catalogs

>

TOSH srl

>

ULTRASONIC WASHING TANK 5.0 14.0
Catalog excerpts
VERSION 01/09 PRODUCT information INOX 5.0 INOX 14.0 ULTRASONIC WASHING TANK Ultrasonic washing tank is the most effective answer for the parts cleaning that is in compliance with current safety standards. It is a practical solution for cleaning all of the pad printing's parts which are in contact with inks and need to be cleaned between production changeovers. Clean your hermetic cups, plates, blading rings, doctor blades etc. with maximum efficiency and ease of handling. This system has an extremely low watt/liter cost and an absolute safety to operate. CHARACTERISTICS - Constructed entirely of 304 stainless steel. - Incorporated generator (type switch model) lead zirconate-titanate transducers. - Electric safety insulation in highfrequency. - Even distribution of ultrasonic cleaning power. - Incorporated timer and thermostat. - 100% adjustable - Removable stainless steel tubes for easy cleaning and maintenance. The tubes can be easily placed into external tank (i.e. INOX 50M model) for final rinse. - Requires minimal cleaning solution. - Drain cock for an handy detergent replacement. - Internal insulation provides thorough soundproofing.
Open the catalog to page 1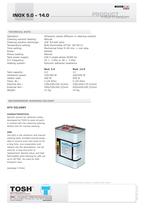 VERSION INOX 5.0 - 14.0 01/09 PRODUCT information TECHNICAL DATA Operation: Cleaning solution feeding : Cleaning solution discharge: Temperature setting: Time setting: Power: Pieces loading: Tank power supply: H.F. frequency: Heating system: Ultrasonic waves diffusion in cleaning solution Manual 3/8" D3 ball valve Bulb thermostat (0°'b0- 40°'b0 C) Mechanical timer 0-30 min. + non stop Settled Manual 230 V single phase 50/60 Hz 25 + 2 KHz or 40 + 2 KHz Syliconic adhesive resistance Tank capacity: Ultrasonic power: Heater watt: Trans. Nr.: Internal dim.: External dim.: Weight: Mod. 5.0 4,5...
Open the catalog to page 2
All TOSH srl catalogs and technical brochures

Archived catalogs

Compare up to 10 products