Catalogs

>

TL-B10H Centrifugal Brushless DC Pump
Catalog excerpts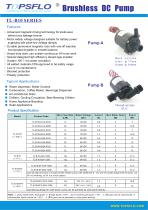 TOPSFLO Excellence in Micro pump,DC pump TL-B10 SERIES Features ◇ Advanced magnetic driving technology for static-seal, without any leakage forever ◇ Motor widely voltage designed suitable for battery power supplying with peak-low voltage damply ◇ Durable permanent magnetic rotor with one-off injection incorporated impeller in smooth balance ◇ Heavy duty work, can sustain continuous 24 hours work ◇ Special designed high efficiency closed-type impeller ◇ Sustain 100℃ hot water circulation ◇ All wetted materials FDA approved to be safety usage ◇ Low or no maintenance ◇ Blocked protection ◇ Polarity protection Barb nozzles Inlet: φ 17mm Outlet: φ 9.8mm Water dispenser, Water Coolers Carbonation, Coffee Maker, Beverage Dispenser Air-conditioner Drain Chillers, Cooling Circulation, Beer Brewing Chillers Home Appliance Boosting Solar Applications Product Specification Curre nt (A) TL-B10/5V-B24-1208 12L 24VDC 1.3 8 31.2 special high pressure or Instant W ater Heater pump with additional 05V wire for speed adjustment function ( at 0V not working, at 5V run at full speed ) TL-B10H/PV-B12-1006 specializing design for solar panel, pump can be powered by solar panel directly. Note : 1.pump itself meet: food grade 2. H type liquid≤105℃, not H normal type liquid ≤70℃ submersible liquid should be ≤50℃ 4. /PV type can be powered by solar panel directly.
Open the catalog to page 1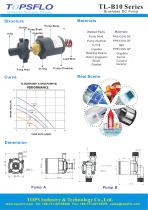 Excellence in Micro pump, DC pump Pump Body Pump Head Lead Wire Pump Chamber Real Scene FLOW RATE (L/MIN) TOPS Industry & Technology Co.,Ltd.
Open the catalog to page 2
All TOPSFLO INDUSTRY AND TECHNOLOGY CO. catalogs and technical brochures

Compare up to 10 products