Catalogs

>

TOPCON

>

ScanMaster
Catalog excerpts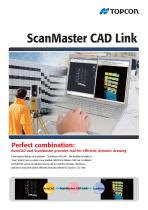 AutoCAD and ScanMaster provides tool for efficient, dynamic drawing A new optional feature on ScanMaster - "ScanMaster CAD Link" - that facilitate the ability to "draw" objects from scan data is now available. With the ScanMaster CAD Link, ScanMaster and AutoCAD screens are displayed side-by-side for seamless operation, allowing an operator to easily draw objects efficiently from data collected by Topcon's GLS-1500.
Open the catalog to page 1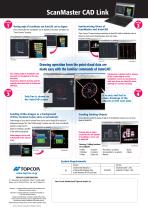 ScanMaster CAD Link Point Viewing angle of ScanMaster and AutoCAD can be aligned View of AutoCAD and ScanMaster can be aligned in the same orientation by "Send Camera" function. Synchronizing Views of ScanMaster and AutoCAD "Sync Camera" keeps viewing orientation of AutoCAD while ScanMaster view is rotated so that current drawing plane does not rotate. Drawing operation from the point-cloud data are made easy with the familiar commands of AutoCAD . ® The viewing angle of ScanMaster and AutoCAD can be aligned in the same directions. Comparison between drawing and the original point-cloud...
Open the catalog to page 2
All TOPCON catalogs and technical brochures

Archived catalogs

Compare up to 10 products