Catalogs

>

TOPCON

>

Multi Purpose Rotating Lasers RL-VH4G2/4DR
Catalog excerpts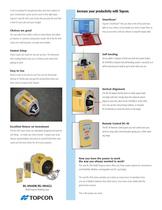 If yoi/re looking for exceptional value and more options in four Construction Lasers you've corne to the right place, opcotfs new RL-VH4 Laser Sries lels you p﩮dc the tool that is besl for your job and your budget. Choices are good fou can seled from either a Red or Creen Beam and entier an Interior or General Construction mode. Ail ot the RL-VH4 Lasers are mufti-purpose, accurate and durable. Fast est Setup Ihese Lasers are made for fast set up time. The Electronic Self Lereling feature putsyou a buttons push away from getting to work- Easy to Use Wed a Laser to be easy to use? tou an do...
Open the catalog to page 2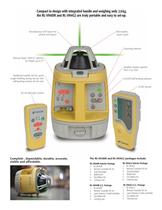 Compact in design with integrated handle and weighing only 2,6 kg, the RL-VH4DR and RL-VH4G2 are traly portable and easy to set-up. Simullaneous 90* beam for plumb and layout Removable ym Laser Cuard Scanning selector Variable rotation speeds fromOtoծOO Manual slope 'rakein* selector for slopes up to 5* Traditional bubblevial for quick rough levelling during set-up. Fasl seH-leveling motors do the rest On/Off selMeveling selector RC-40 Remote Contro LS-80 Sensor Complte , dependable, durable, accurate, visible and affordable. Hie RL-VH4DR and RL-VH4G2 packages indude: HL-VH4DR Interior...
Open the catalog to page 3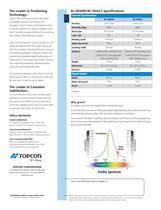 The Leader in Positioning Technology... Topcon ofleis positioning produas that deliver unparalleled sitewide performance and intgration. Topcon's history of technological advanc-es and our rputation for superior reliability means there's no other corrpany positioned to provide you wth a better "Total Positioning Solution." From survey to inspection Topcon. through our 170+ dealers throughout North and South Amerki pro驭vides the innovatrve technotogy tha g ws su rvey ore, cM engineefs, contractoii equpment «vners, and operators the compebtrve edge by addressing such critical issues as...
Open the catalog to page 4
All TOPCON catalogs and technical brochures

Archived catalogs

Compare up to 10 products