Catalogs

>

TOPCON

>

Euro 112T
Catalog excerpts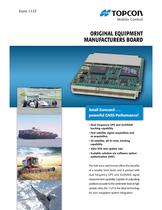 Euro 112T Mobile Control ORIGINAL EQUIPMENT MANUFACTURERS BOARD Small Eurocard . . . powerful GNSS Performance! • Dual frequency GPS and GLONASS tracking capability • Fast satellite signal acquisition and re-acquisition • 20 satellite, all-in-view, tracking capability • 20Hz RTK and update rate • Scalable solution via software option authorization (OAF) The half euro card format offers the benefits of a smaller form factor and is packed with dual frequency GPS and GLONASS signal measurement capability. Capable of outputting positions accurate to the centimeter level at high update rates, the 112T is the ideal technology for your navigation system integration.
Open the catalog to page 1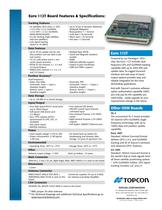 Euro 112T Board Features & Specications: Tracking Features • 20 satellites, all-in-view, L1 GPS, L1/L2 GPS, L1/L2 GLONASS, L1/L2 GPS + L1/L2 GLONASS, WAAS/MSAS/EGNOS. • Co-Op Tracking (high satellites help low satellites) • Low signal tracking (down to 30 dBHz) • Up to 30 g's of dynamic Advanced Multipath Mitigation • Reacquisition < 1 Second • Cold start < 60 Seconds • Warm start < 35 Seconds • Hot start < 5 Seconds Data Features • Up to 20 Hz update rate for real time position and raw data (code and carrier) • 10 cm code phase and 0.1 mm carrier phase precision • RTCM SC104 versions 2.1,...
Open the catalog to page 2
All TOPCON catalogs and technical brochures

Archived catalogs

Compare up to 10 products