Catalogs

>

Self-Levelling Construction Laser (RL-H3 Series)
Catalog excerpts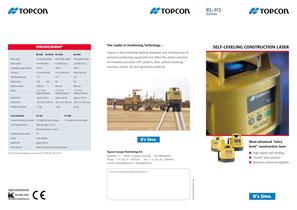 SPECIFICATIONS* RL-H3C RL-H3CS RL-H3CL RL-H3A Beam type red (visible diode) red (visible diode) red (visible diode) Beam power 0.8 mW (max.) 0.9 mW (max.) 2.0 mW (max.) Operating range (radius) 150 m 250 m 350 m Accuracy ±15 arc seconds ±10 arc seconds ±8 arc seconds Self-leveling range ±3° ±3° ±3° Slope range N/A ±5% NA NA Rotation speed 600 rpm 600 rpm 600 rpm Power 4 "C" size 4 "C" size 4 "D" size alkaline batteries alkaline batteries alkaline batteries Batterie life approx. 60 hrs approx. 60 hrs approx. 120 hrs Dimensions 167 x 182 x 189 mm 167 x 182 x 189 mm 220 x 144 x 241 mm Weight w/batteries 1,9 kg 1,9 kg 2,8 kg Laser Receiver LS-70C LS-70B Grade information channels 5 (+high/low out of range) 11 (+high/low out of range) On-Grade precision High precision: ±1 mm Normal precision: ±2 mm Audible on-grade alarm Yes Power 9 Vdc alkaline Battery life Approx. 80 hrs Auto shut-off After 30 minutes w/o beam detection SELF-LEVELING CONSTRUCTION LASER Most advanced "entry level" construction laser n High-speed self-leveling n "Smart" laser receiver n Machine control compability RL-H3 Series Topcon Europe Positioning B.V. Essebaan 11 · 2908 LJ Capelle a/d IJssel · The Netherlands Phone: + 31 (0) 10 - 4585077 · Fax: + 31 (0) 10 - 2844941 e-mail: survey@topcon.eu · www.topcon.eu Your local authorized Topcon distributor is: * all technical changes are reserved by TOPCON, 03/2007 grafit-werbeagentur.de The Leader in Positioning Technology ... Topcon is the worldwide leading developer and manufacturer of precision positioning equipment and offers the widest selection of innovative precision GPS systems, laser, optical surveying, machine control, GIS and agriculture products.
Open the catalog to page 1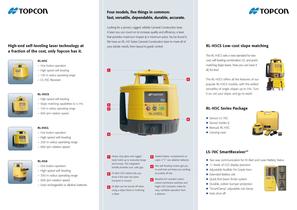 RL-H3CS Low-cost slope matching The RL-H3CS sets a new standard for lowcost, self leveling combination GC and point matching slope lasers. Now you can have it all, for less! The RL-H3CS offers all the features of our popular RL-H3CS models, with the added versatility of single-slopes up to 5%. Turn it on, set your slope, and go to work! RL-H3C Series Package l Sensor LS-70C l Sensor holder 6 l Manual, RL-H3C l Carrying case LS-70C SmartReceiver™ l Two way communication for HI Alert and Laser Battery Status l 11 levels of LCD display precision l Adjustable Audible On-Grade horn l Extended...
Open the catalog to page 2
All TOPCON EUROPE POSITIONING catalogs and technical brochures

Archived catalogs

Compare up to 10 products