Catalogs

>

KR-1W
Catalog excerpts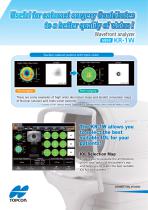 Wavefront analyzer CZ33KR-1W These are some examples of high order aberration maps and landolt simulation maps of Nuclear cataract and triple vision patients. Courtesy of Prof. Naoyuki Maeda. Department of Ophthalmology.Osaka University Medical School wJCKgl W allows you Sglectlthe best smtablem)L for your patiently Selection Map 'VEnables you to evaluate the architecture of the total optics of the patient's eye and helps you to select the best suitable IOL for your patient.
Open the catalog to page 1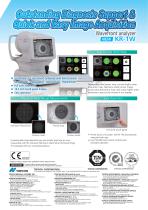 Wavefront analyzer KR-1WEasy to read Multi Map Topography, axial power map, corneal higher order aberration map, Hartmann-shack sensor image, ocular total aberrations map, and ocular higher order aberrations map can be viewed in one display. 5junctions inj instrument combined with Refractometer/ rl3rat6meter£fepographer / Aberrometer / Pupillometer' Full auto alignment* 10.4 inch touch panel display Easy operation Unmeasurable large aberration eye and smaller pupil eye are now measurable with the improved Hartmann-Shack Sensor & Placido Rings. Compared with our conventional device Previous...
Open the catalog to page 2
All TOPCON EUROPE POSITIONING catalogs and technical brochures

Archived catalogs

Compare up to 10 products