Catalogs

>

Advanced Standard and Non-Standard Total Stations (GPT-7500, GTS-750)
Catalog excerpts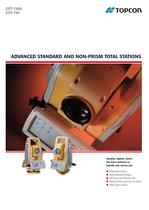 ■ Reflectorless 2000 m ■ Backlit keypad and display ■ USB Type A and USB mini slots ■ Advanced WinCE processor on-board ■ High Capacity battery >
Open the catalog to page 1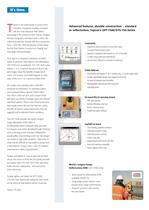 opcon is the world leader in survey instru-mentation, equipping countless surveyors with the most advanced Total Station technology in the industry. In fact, Topcon changed the way topography and layout work is done. We continue to lead the industry with time-saving solu- tions from the 1976 introduction of the Guppy, the first Total Station, to quick-lock, imaging, and long range EDM technology.Now Topcon is pleased to introduce our latest series of advanced Total Stations: the reflectorless GPT-7500 and conventional GTS-750. Both series feature 1, 3, or 5 second accuracy to fit your job...
Open the catalog to page 2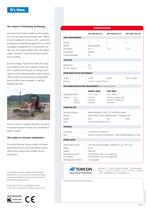 TELESCOPE Magnification 30 xMin. Focus Distance 1.3 m PRISM MODE DISTANT MEASURMENT 1 prism 3000 m 3000 m 3000 m / 2000 mAccuracy (2 mm + 2 ppm x D*) m.s.e. NON-PRISM MODE DISTANCE MEASUREMENT (GPT-7500 Series Only) NORMAL MODE LONG MODE Range (Kodak White) 1.5 m - 250 m 5.0 m - 2000 m Accuracy: - Fine ѱ(5 mm) (10 mm + 10 ppm x D*) - Coarse ѱ(10 mm) (20 mm + 10 ppm x D*) - Tracking ѱ(10 mm) (100 mm) COMPUTER UNIT On-Board / Processor Microsoft Windows > Ѯ CE.NET 4.2 / Intel PXA255 400MHzMemory RAM: 64 MByte / ROM: 2 Mb(Flash ROM) + 128 Mb(SD Card) Displays Dual Dual SingleScreen 320 x...
Open the catalog to page 4
All TOPCON EUROPE POSITIONING catalogs and technical brochures

Archived catalogs

Compare up to 10 products