Catalogs

>

TIMKEN STANDARD WHEEL END SEALS AND INTERCHANGE
Catalog excerpts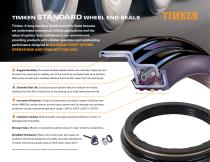 STANDARD WHEEL END SEALS Timken. A long-standing brand trusted by fleets because we understand commercial vehicle applications and the value of uptime. Your confidence is our commitment, providing products with reliable operation and outstanding performance designed to MAXIMIZE FLEET UPTIME, OPERATIONS AND YOUR BOTTOM LINE. A A Rugged Durability: Oversized double-walled metal outer diameter helps prevent the seal from spinning or walking out of the hub bore (includes black bore sealant). Heavy-duty construction enables effective heat transfer away from the sealing lip. B Extended Seal Life: Corrosion-proof spacers feature multiple vent holes, enabling the free flow of lubricant to the sealing lip to help extend service life. C Innovative Protection: Unique contamination exclusion system utilizing three nitrile (NBR) lip contact barrier points helps prevent seal lip damage and provides protection across a broad temperature range (-20ºF to 225ºF [-29ºC to 107ºC]). D Impressive Sealing: Wide shoulder coverage provides protection on worn or damaged axle shoulders. Stronger Value: Meets or exceeds the performance of major industry competitors. Simplified Installation: Steer, drive and trailer axle seals are available with tools designed to simplify accurate installations (Timken commercial grade tools or the Timken Insta-Tool®). Visit www.timken.com/cvwarranty for CV Wheel End Components Warranty information.
Open the catalog to page 1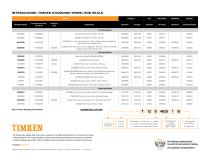 NATIONAL MERITOR Standard Series Commercial Grade Tool P/N Guardian Voyager Scotseal 37 Series Standard Standard Series Bold = Priority Stocking Part Numbers TIMKEN Drive Axle Seals Mack Drive Axle 50,000# & 60,000# 44,000# Drive Axle, Mack 15,000# Drive Axle, Ford, Meritor F-Series 34,000# Drive Axle, Eaton, Ford, Navistar, White 38,000#, 46,000# Tandem Axle, Eaton, Ford, Freightliner, Kenworth, Meritor, Navistar, Peterbilt, Volvo GM, Western Star 34,000# & 38,000# Drive Axle, Mack 38,000# Drive Axle, Eaton, GMC, Mack, Meritor 19,000# Drive Axle, Eaton, Ford, GMC, Navistar, White Trailer...
Open the catalog to page 2
All TIMKEN Europe catalogs and technical brochures

Archived catalogs

Compare up to 10 products