Catalogs

>

MPS160
Catalog excerpts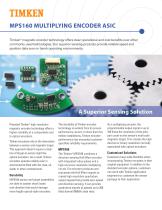 Timken® magnetic encoder technology offers clear operational and cost benefits over other commonly used technologies. Our superior sensing products provide reliable speed and position data even in harsh operating environments. Patented Timken® high-resolution magnetic encoder technology offers a higher reliability at a comparable cost to optical encoders. Timken encoders rely on the interaction between a sensor and magnetic target. This approach doesn't require a clear line of target-to-sensor sight like optical encoders. As a result, Timken encoders operate reliably even in environments filled with dirt, dust, oil, water or other contaminants. Durability MPS160 sensor and target assemblies are able to sustain shock loads and vibration that would damage more fragile optical-style encoders. The durability of Timken encoder technology is evident from its proven performance record. In more than five million installations, Timken encoder performance has exceeded customer-specified reliability requirements. MPS160 The Timken® MPS160 combines a direction-sensing Hall Effect encoder with integrated index pulses and a high-accuracy resolution multiplying circuit. The encoder produces and processes the Hall Effect signals to create high-resolution quadrature output signals that provide zero-speed and direction sensing. It can provide quadrature signals at speeds up to 200 kHz/channel (800kHz data rate). As a multiplying encoder, the programmable output signal is up to 160 times the resolution of the pole-pair count on the sensor's multi-pole magnetic target. This creates the high-decimal or binary resolution normally associated with optical encoders. Customized Solutions Customers have wide flexibility when incorporating Timken encoders in their original equipment. In addition to the standard encoder options, customers can work with Timken application engineers to customize the sensor package to their application.
Open the catalog to page 1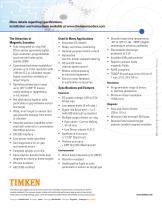 More details regarding specifications, installation and instructions available at www.timkenencoders.com The Attraction of Magnetic Encoders • Fully integrated on-chip Hall Effect sensor generates digital, high-resolution, programmable synchronized index pulse signals (C&D) • Customized solutions available to provide up to 14 bit resolution with a 68 mm (2.7 in.) diameter target; higher resolution available on largertargets • Operating temperature range up to 125° C (255° F) means costly sealing or ruggedizing is not needed • Not affected by liquid or solid particulate in gap between...
Open the catalog to page 2
All TIMKEN Europe catalogs and technical brochures

Archived catalogs

Compare up to 10 products