Catalogs

>

THB spherical roller bearings 23024-E1A-XL-M
Catalog excerpts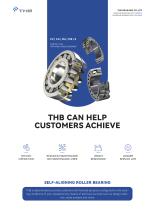 THB BEARINGS CO.,LTD WWW.THB-BEARINGS.COM | WEBSITE INFO@THB-BEARINGS.COM | MAILBOX CC | CA | MA | MB | E CONTACT THB FOR MORE MODELS BEARING THB CAN HELP CUSTOMERS ACHIEVE STEADY OPERATION REDUCED MAINTENANCE OR MAINTENANCE-FREE IMPACT RESISTANCE LONGER SERVICE LIFE SELF-ALIGNING ROLLER BEARING THB is determined to provide customers with tailored products configured for the working conditions of your equipment by means of technical services such as design selection, state analysis and more.
Open the catalog to page 1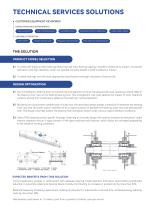 TECHNICAL SERVICES SOLUTIONS CUSTOMER EQUIPMENT KEYWORDS HARSH WORKING ENVIRONMENTS HIGH HUMIDITY HIGH TEMPERATURES EXCESSIVE DUST INTENSIVE IMPACT VIBRATION HIGH WORK LOADS UNSTABLE OPERATION HIGH SPEED SHORT SERVICE LIFE FREQUENT SHUTDOWNS HIGH COST OF MAINTENANCE THB SOLUTION PRODUCT MODEL SELECTION 01 To utilize self-aligning roller bearings featuring high load-bearing capacity, excellent resistance to impact, convenient lubrication and high reliability, which can operate normally despite a shaft's deflection motion. 02 To select bearings with the most appropriate specifications through...
Open the catalog to page 2
All THB Bearings catalogs and technical brochures

Compare up to 10 products