Catalogs

>

TESTO

>

Thermal anemometer operated with smartphone testo 405i
Catalog excerpts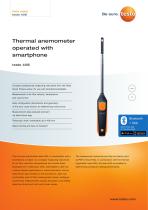 Data sheet testo 405i Be sure Thermal anemometer operated with smartphone testo 405i C Bluetooth + App testo Smart App for free download Google-play AppStore Compact professional measuring instrument from the Testo Smart Probes series, for use with smartphones/tablets Measurement of air flow velocity, temperature and volume flow Easy configuration (dimensions and geometry) of the duct cross-section for determining volume flow Measurement data analyzed and sent via testo Smart App Telescopic shaft, extendable up to 400 mm Space-saving and easy to transport The hot-wire anemometer testo 405i, in combination with a smartphone or tablet, is a compact measuring instrument for air flow velocities, temperatures and volume flows. Equipped with a telescopic shaft, extendable to 400 mm, it allows flexible applications in rooms and ducts. Via the testo Smart App installed on the end device, users can comfortably read off their measurement values, configure volume flow measurements quickly and easily, and reliably determine timed and multi-point mean values. The measurement protocols can then be directly sent as PDF or Excel files. In combination with the thermal hygrometer testo 605i, the testo 405i is suitable for determining cooling or heating performance.
Open the catalog to page 1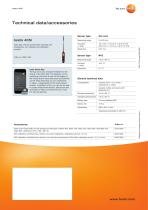 Technical data/accessories Order no. 0560 1405 testo Smart App The App turns your smartphone/tablet into the display of the testo 405i. The operation of the measuring instrument as well as the display of the measurement values take place by Bluetooth via the Testo Smart App on your smartphone or tablet - independently of the measurement location. In addition to this, you can use the App to create measurement reports, add photos and comments to these, and send them by e-mail. For iOS and Android. Sensor type General technical data testo Smart Case (VAC) for the storage and transport of testo...
Open the catalog to page 2
All TESTO catalogs and technical brochures

Archived catalogs
Compare up to 10 products