Catalogs

>

Teracom

>

TCW280
Catalog excerpts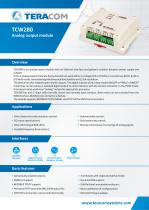 TCW280Analog output module Overview TCW280 is an analog output module with an Ethernet interface and galvanic isolation between power supply and outputs. It has 2 analog output channels. Every channel can work either in voltage (0/5 or 0/10V) or current loop (0/20, 4/20 or 0/24mA) mode. Generated signals have excellent stability and 12-bit resolution. The device has also 4 digital (open-drain) outputs. The digital outputs work in two modes ON/OFF or PWM. In ON/OFF mode they can be used as a standard digital output to control devices with dry contact activation. In the PWM mode, the output can be used as an "analog" output for appropriate processes. TCW280 has also 2 relays with normally closed and normally open contacts. Both relays can be activated from the WEB interface, M2M protocol or by the schedule. The module supports MODBUS TCP/IP, SNMP, and HTTP API for M2M communication. Solenoid valve control; Solid state relay control; Remote transmission (tunneling) of analog signals. • Direct electronic valve actuators control; • DC motor speed control; • Direct dimming of RGB LED's; • Variable frequency drive control; Ethernet Digital Outputs Analog Outputs Relay Outputs ON/OFF or PWM Voltage or Current Basic features • Galvanically isolated outputs; • SNMP v2 support; • MODBUS TCP/IP support; • Periodical HTTP post with XML/JSON status file; • HTTP API commands in server and client mode; • 4 schedules with single and weekly mode; • Dynamic DNS support; • DIN-Rail/wall-mountable enclosure; • Back-up/Restore of configurations; • Remote firmware update.
Open the catalog to page 1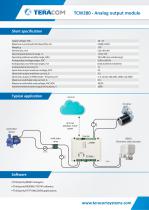 TCW280 - Analog output module Short specification Supply voltage, VDC Maximum current (with all relays ON), mA Weight, g Dimensions, mm Operating temperature range, °C Operating relative humidity range, %RH Analog output voltage ranges, VDC Analog output current loop ranges, mA Analog outputs accuracy, % Open drain output maximum voltage, VDC Open drain output maximum current, A Open drain output in PWM mode - frequency, Hz Maximum switchable relay current, А Maximum switchable relay voltage, VAC/VDC Isolation between power supply and outputs, V Typical application controlled device HTTP...
Open the catalog to page 2
All Teracom catalogs and technical brochures
Compare up to 10 products