Catalogs

>

Temperature Humidity Network USB Data Logger
Catalog excerpts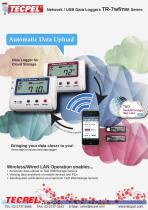 Network / USB Data Loggers TR-7wf/nw Series Automatic Data Upload Data Logger for Cloud Storage s Acces ata sD les am Se Bringing your data closer to you! Three ways to access your data logger Wireless/Wired LAN Operation enables... • Automatic data upload to T&D WebStorage Service • Viewing data anywhere on mobile devices and PCs • Sending alert notifications via email from T&D WebStorage Service
Open the catalog to page 1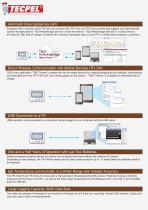 Automatic Data Upload via LAN Equipped with a wireless LAN (TR-7wf) and a wired LAN (TR-7nw), the TR-7wf/nw series data loggers can automatically upload recorded data to "T&D WebStorage Service" at the set interval. "T&D WebStorage Service" is a cloud service provided by T&D free of charge. It enables the viewing of uploaded data on your PC or mobile device anytime, anywhere. Direct Wireless Communication with Mobile Devices (TR-7wf) T&D's new application "T&D Thermo" enables the use of mobile devices for making/changing device settings, downloading recorded data from the TR-71wf/72wf, and...
Open the catalog to page 2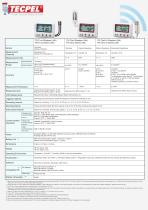 Thermistor (Internal / External) Polymer Resistance Platinum Resistance Electrostatic Capacitance Measurement Channels Temperature 2ch (Internal 1ch / External 2ch) Measurement Units Internal Sensor External Sensor -40 to 110°C (Supplied Sensor) 0 to 55°C -60 to 155°C (Optional Sensor: Fluoropolymer Coated Type) ±2.5%RH at 25°C, 10 to 85%RH ±4.0%RH at 25°C, 0 to 10%RH or 85 to 99%RH For temperatures other than 25 °C and between 0 °C and 80 °C, add ±0.1 %RH per degree difference from 25. Humidity Hysteresis: ±1.5%RH or lower*1 Measurement Resolution Thermal Time Constant: Approx. 75 sec....
Open the catalog to page 3
All Tecpel Co. catalogs and technical brochures

Archived catalogs

Compare up to 10 products