Catalogs

>

Digital Bench Top LCR Meter 100KHz, 200KHz
Catalog excerpts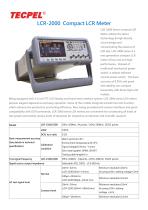 LCR-2000 Compact LCR Meter LCR-2000 Series compact LCR Meter adopts the latest technology & high density circuit design and concentrating the essence of LCR test, LCR-2000 series is a new generation compact LCR meter of low cost and high performance. Instead of traditional mechanical power switch, it adopts software control power switch. The basic accuracy of 0.05% and good test stability can compare favourably with those high-end models. Being equipped with 4.3 inch TFT LCD Display and brand new interface system, LCR-2000 series LCR meters possess elegant appearance and easy operation. Some of the models integrate transformer test function, which enhance the production and testing efficiency. Also, being provided with various interfaces and good compatibility with SCPI commands, LCR-2000 series LCR meters are convenient for constituting all kinds of test system and satisfy various kinds of demands for inspection, production and scientific research.
Open the catalog to page 1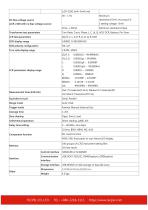 DC bias voltage source (LCR-2100 with no bias voltage source) Turn Ratio, Turns, Phase, L, C, Lk, Q, ACR, DCR, Balance, Pin Short Transformer test parameters LCR test parameters DCR display range DCR polarity configuration Turn ratio display range LCR parameters display range Equivalent circuit Range mode Trigger mode Average time Zero clearing Arithmetical operation Delay time setting Comparator function ms) Slow:2.7meas/sec(370 ms) Serial, Parallel Auto, Hold Internal, Manual, External, Bus 1-255 Open, Short, Load Direct reading, AABS, A% 0 -- 60.000s, 1ms steps 10 bins, BIN1~BIN9, NG,...
Open the catalog to page 2
All Tecpel Co. catalogs and technical brochures

Archived catalogs

Compare up to 10 products