Catalogs

>

Model 9100/9200 300Vpp Single/Dual Channel Signal Amplifier
Catalog excerpts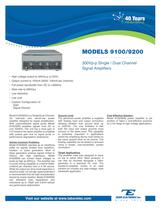 MODELS 9100/9200 300Vp-p Single / Dual Channel Signal Ampliers • High voltage output to 300Vp-p (±150V) • Output current to 150mA (9200: 100mA per channel) • Full power bandwidth from DC to >500kHz • Slew rate to 200V/μs • Low distortion • Low cost • Custom Conguration of: Gain Signal Ground Model 9100/9200 is a Single/Dual Channel, 2U, half-rack size, bench-top power amplier designed for signal amplication. With unprecedented signal purity, Model 9100/9200 amplies signals from DC to over 500kHz. The unit has a xed gain of x15 however the same amplier is available with custom gain and no signal purity or performance degradation whatsoever. Solves Common Problems Model 9100/9200 operates as an amplifying buffer for signals emitted from waveform, function, or pulse generators. Most of these generators produce signals limited to 20Vp-p into high impedance. Model 9100/9200 can convert these voltages to levels as high as 300Vp-p. The amplier has a current driving capability of ±150mA (9200: ±100mA per channel) from a 0.1W source. While the output can drive small capacitive or inductive loads, for full high speed potential it is recommended that the load characteristics should be mainly resistive. Model 9100/9200 can withstand load capacitance and inductance up to 100pF and 0.5mH without any performance deterioration Ground Level The advanced power amplier is supplied with oating input and output connectors allowing otation from ground level up to 250VDC. The only limitation is that both the input and output grounds must connect to the same level. This capability is extremely important in applications where the amplifying device must reside on the same ground level as its source. The oating capability can be added or removed using a simple, user-accessible, jumper connection. Target Applications The amplier case was designed to stack on top or below other Tabor products. It can also be mounted alongside a Tabor generator in a standard 19" rack. The waveform-amplier combo is an ideal solution for virtually any high-voltage, wide bandwidth application. Cost Effective Solution Model 9100/9200 power amplier is yet another of Tabor`s cost-effective solutions for a full range of high voltage applications.
Open the catalog to page 1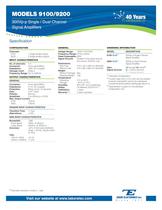 300Vp-p Single / Dual Channel Signal Amplifiers ORDERING INFORMATION INPUT CHARACTERISTICS Connector: Front panel BNCs OUTPUT CHARACTERISTICS Front panel BNCs SQUARE WAVE CHARACTERISTICS Transition Time: SINE WAVE CHARACTERISTICS Small Signal Large Signal range + 25mV), Square wave Voltage Range: Frequency Range: Power Consumption: Signal Ground: With Feet Without Feet Without Package Shipping Weight Floated to the same level as Signal Ground: Signal Amplifier Signal Amplifier *2' Custom gain from x10 to x20 can be ordered however, bandwidth cannot be maintained Consult the factory before...
Open the catalog to page 2
All Tabor Electronics catalogs and technical brochures

Archived catalogs

Compare up to 10 products