Catalogs

>

Reciprocating Abraser
Catalog excerpts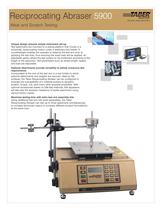 Reciprocating Abraser 5900 Wear and Scratch Testing Unique design ensures simple instrument set-up. Test specimens are mounted to a sliding platform that moves in a horizontal, reciprocating motion under a stationary tool holder. A counterweight enables the operator to balance the test arm prior to applying the test load, thus ensuring the exact load will be applied. An adjustable gantry allows the test system to be positioned according to the height of the specimen. Test parameters such as stroke length, speed, and load are adjustable. Optional attachments provide versatility to satisfy numerous test requirements. Incorporated at the end of the test arm is a tool holder to which optional attachments and weights are secured. Ideal for flat surfaces, the Taber Reciprocating Abraser can be configured to evaluate the susceptibility of a material surface to abrasion, scratch, scrape, rub, plus many other physical properties. With optional accessories based on GM test methods, this apparatus will also test the abrasion resistance of textile specimens using various friction media. Maximize testing time with extra test arm assembly kits. Using additional test arm kits (sold separately), the Taber Reciprocating Abraser can test up to three specimens simultaneously to increase technician output or compare different product formulations at the same time.
Open the catalog to page 1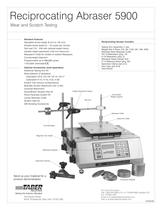 Reciprocating Abraser 5900 Wear and Scratch Testing For more information: Call 1.800.333.5300 (U.S.) or 716.694.4000 (outside U.S.) Fax 716.694.1450 Email us at sales@taberindustries.com Visit us at www.taberindustries.com 455 Bryant Street North Tonawanda, New York 14120 USA Reciprocating Abraser Includes: Testing Arm Assembly (1 set) Weight Set, 6 Piece (1N, 2N, 2.5N, 5N, 10N, 24N) Stainless Steel Wearaser Collet CS-10 Wearasers (pkg. 10) H-18 Wearasers (pkg. 5) Wearaser Depth Gauge Tool S-14 Refacing Strips (pkg. 50) Specimen Clamp (set of 2) Hex L-Key (set of 6) Hand Brush Standard...
Open the catalog to page 2
All Taber Industries catalogs and technical brochures

Archived catalogs
Compare up to 10 products