Catalogs

>

AIR CHILLER SYSTEM
Catalog excerpts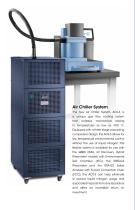 Air Chiller System The new Air Chiller System, ACS-3, is a unique gas flow cooling system that to temperatures as low as -100 °C. Equipped with a three-stage cascading compressor design, the ACS-3 allows for low temperature environmental control without the use of liquid nitrogen. This flexible system is available for use with the Q800 DMA, all Discovery Hybrid Rheometer models with Environmental Test Rheometer and the RSA-G2 Solids Analyzer with Forced Convection Oven (FCO). The ACS-3 can help eliminate or reduce liquid nitrogen usage and associated hazards from any laboratory and offers...
Open the catalog to page 2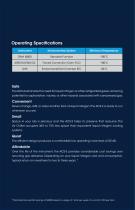 Operating Specifications Instrument Environmental System Minimum Temperature Standard Furnace Forced Convection Oven, FCO Environmental Test Chamber, ETC Safe The ACS-3 eliminates the need for liquid nitrogen or other refrigerated gases, removing potential for asphyxiation, injuries, or other hazards associated with compressed gas. Convenient Never change, refill, or order another tank of liquid nitrogen. The ACS-3 is ready to run whenever you are. Small Space in your lab is precious and the ACS-3 helps to preserve that resource. The Air Chiller occupies 36% to 75% less space than...
Open the catalog to page 3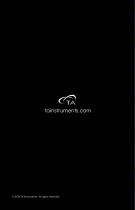 All TA Instruments catalogs and technical brochures

Compare up to 10 products